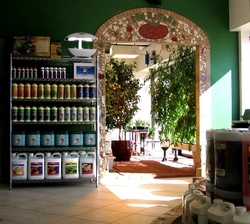 Let's start offering the same extraordinary deals online that we are offering to our loyal customers locally! - Jeremy Stout
Denver, CO (PRWEB) June 18, 2010
The Big Tomato announced the release of its new online outlet store, offering hydroponics supplies for those who love gardening indoors. Products such as nutrients, lighting systems, grow tents, ventilation equipment and hundreds of other hard to find supplies are now available to customers nationwide. To increase the exposure of the new website, The Big Tomato is offering selected gardening equipment up to 40% off. Free shipping is offered on all orders over $99 placed before July 31, 2010. To top it off, they are also offering incentives as thanks to loyal web customers who spread the word.
Customers who refer friends and family to their online hydroponics store will receive a one-time 10% commission of each referred customer's total purchase. This credit can then be redeemed on a future online purchase.
Since May 2000, The Big Tomato team has built an unrivaled reputation in Colorado for offering top quality customer service, superior product knowledge, and highly competitive pricing on hydroponic supplies from its storefront in the Denver area. They chose to turn their high level of customer service and their depth of product knowledge into its own brand that their customers have learned to trust. The Big Tomato is reaching out to customers across the country; confident that distant customers will experience friendly customer support service and have an enjoyable shopping experience online. Owner Jeremy Stout was quoted as saying "Let's start offering to our online customers the same ridiculous deals we are offering to our local customers". He went on to say, "Everyone deserves to spend more time in the garden and less time in the car, and still be able to shop for quality products from the comfort of their own homes."
Special pricing, extra discount opportunities, and unique promotions will be offered to their online members only.
About The Big Tomato
The Big Tomato has been providing hydroponic supplies since May of 2000. They offer a full range of hydroponic equipment. Some of these items include organic nutrients; grow lights; grow tents; hydroponic systems and much more. Be sure to check out their website to see the full range of hydroponics equipment, optimized for those who love gardening. Time to get that beautiful garden growing!
###