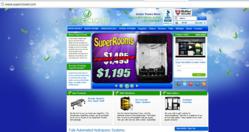 San Francisco,CA (PRWEB) July 05, 2012
Highlighting the upgraded website is the re-packaging of the SuperRoom grow tent products. Each SuperRoom now features the best in class of components. For example in the 5x5 SuperRoom, the new 6" Blazer Reflector is included as standard equipment which is an upgrade over the previous Cooltube reflectors. In addition the grow tents are thicker, stronger, bigger and better quality than the previous grow tents used provided in the SuperRoom packages. Finally, each SuperRoom now ships standard with a hydroponic system either the Bubble Flow Buckets, SuperFlow or the SuperPonics-16 system. This enables all of SuperCloset SuperRoom customers the ability to automate their growing experience.
Some other key changes to the website are an embedded video player on the homepage to watch more than 30 videos in the SuperCloset library of both grow tutorials and fun product marketing videos, the integration of social media channels, and a newsletter signup form that includes entry into product giveaway sweepstakes and contests. SuperCloset is looking forward to the increased interaction amongst its community through the launch of its updated website. Visit at http://www.supercloset.com to get going and growing.
About SuperCloset:
SuperCloset takes the guesswork out of growing through manufacturing the most innovative and customer friendly hydroponic systems and turnkey grow box units. After 10 years SuperCloset continues to lead the horizontal and vertical growing industry with its commitment to excellent products and world-class customer service.