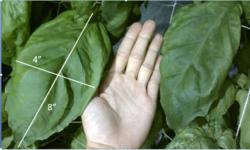 San Francisco, CA (PRWEB) July 11, 2012
Even though most basil is grown outdoors, indoor hydroponically grown basil thrives and can be cultivated quicker and larger. Basil likes a warmer temperature of more than 70 degrees at night and more than 50 degrees during the day. It also thrives at a Ph between 5.5 and 6.5 which is the perfect range for hydroponic gardening.
The perfect most prolific and efficient hydroponic systems is The Big Buddha Box. The Big Buddha Box is the most innovative vertical hydroponics system for the hobbyist to commercial indoor gardeners. It is very cost-effective at producing lettuce, green leafy vegetables, tomatoes, herbs and basil. The Big Buddha Box is a four walled, 87-plant capacity growing system vertically oriented toward a light column in the center of the unit. With the vertical net trellis system instituted in the design, plants are coaxed and trained to grow toward the center of the unit enabling maximum production. In the Big Buddha Box, plants typically only need to reach up to 2 feet before they can be harvested and consumed. The basil plants in the Big Buddha Box Basil Grow achieved heights of 30" because of the enhanced growing environment of the Big Buddha Box.
View the chronological pictorial of the Big Buddha Box Basil Grow, go to the SuperCloset Pinterest page at: SuperCloset Big Buddha Box Basil Grow
About SuperCloset:
SuperCloset takes the guesswork out of growing through manufacturing the most innovative and customer friendly hydroponic systems and turnkey grow box units. After 10 years, SuperCloset continues to lead the horizontal and vertical growing industry with its commitment to excellent products and world-class customer service.