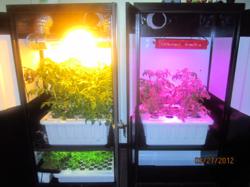 San Francisco, CA (PRWEB) April 03, 2012
HPS lights are the most utilized grow lights in indoor gardening growboxes because they enhance the fruiting and flowering process in plants, have a long usable bulb life and possess six-times more light output per watt than incandescent lights. HPS bulbs emit an orange/red light, 2200K to be exact, which produces larger harvests of higher quality herbs, fruits and vegetables. Because HPS bulbs increase usable end product, all SuperCloset grow boxes and grow rooms ship standard with HPS lighting systems including Lumatek ballasts and bulbs.
LED lights are Light Emitting Diode arrays that consume less electricity compared to other grow lights and less heat. Because of these features, LED lights can be placed closer to the plants' canopy than HID lights. They are a great alternative for indoor growers that have a problem controlling their indoor air temps. LED lights ship as upgrades to the Deluxe hydroponic grow box systems.
The SuperCloset Deluxe hydroponic grow box system is the perfect venue for the HPS vs. LED hydroponic tomato grow-off. It stands 72" tall, 36" wide and 24" deep encased in 16 gauge steel. It is harbors the perfect environment of 76 degrees F and will allow the Black Krim tomato plants to reach up to 34" tall inside the growing chamber. Since all Deluxe grow boxes are designed with adjustable lighting systems, the grow lights can be moved up and down according to plant height. The plants in each grow box started out at 5" tall as they were moved up from their SuperCloner grow chambers as clones.
Follow the Tomato Wars 2 Grow Off on the SuperCloset Facebook page or the SuperCloset Grow Blog.
About SuperCloset:
SuperCloset takes the guesswork out of growing through manufacturing the most innovative and customer friendly hydroponic systems and turnkey grow box units. After 10 years SuperCloset continues to lead the the horizontal and vertical growing industry with its commitment to excellent products and world-class customer service.