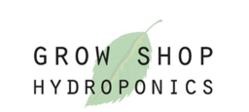 Visit our new customer-friendly and easily accessible website
So. San Francisco, CA (PRWEB) March 16, 2012
San Francisco hydroponics store, Grow Shop Hydroponics, offering kits and packages for both experienced and new growers in the San Francisco area, is excited to announce the launch of its newly revamped website at http://www.gshshop.com, along with a special discount of up to 30-percent off selected items.
"Visit our new customer-friendly and easily accessible website," Joe Chu of Grow Shop Hydroponics said. "Whether you grow in soil, soilless mixes, Hydroton grow rocks, coco fiber or rockwool, we offer everything you need to be a successful gardener."
Grow Shop Hydroponics carries a winning combination of superior general hydroponics knowledge with the market's finest growing nutrients and equipment to help plants reach their full potential. The cutting-edge garden store in San Francisco is the perfect venue to find all types of general hydroponics, indoor growing lights and grow room tents. Whether harvesting home-grown tomatoes or medical marijuana, Grow Shop Hydroponics is the go-to source for grow rooms, fertilizers and advice on how to help plants grow in a healthy, progressive manner.
Grow Shop Hydroponics is a reputably staffed garden store with an extensive range of all major brands known to be the best growing fertilizers and nutrients on today's market. Along with must-have nutrients, the hydroponics store is fully stocked with all major, top-shelf brands, such as Sunlight, Advanced Nutrients and Hydrofarm.
For more information about the current promotion or any of Grow Shop Hydroponics' products or services, call 650-534-2583, view the hydroponics store on the web at http://www.gshshop.com or visit 131 South Maple Ave. in South San Francisco.
About Grow Shop Hydroponics
Grow Shop Hydroponics is a resource and garden store for fertilizers and nutrients. More than just a hydroponics store, the store offers key growing ingredients for general hydroponics, reliable equipment and a knowledgeable staff to help all types of growers succeed.