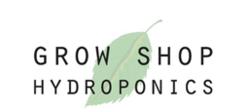 We consider ourselves the city's one-stop shop for general hydroponics, fertilizers and gardening nutrients
So. San Francisco, CA (PRWEB) May 19, 2012
Grow Shop Hydroponics, the best garden store in San Francisco that offers general hydroponics products, is currently featuring a 30-percent discount on selected merchandise during its graduation sale promotion throughout May.
"We consider ourselves the city's one-stop shop for general hydroponics, fertilizers and gardening nutrients," Joe Chu of Grow Shop Hydroponics said. "We warmly extend our expertise to fellow green thumb growers in the area. Give us a call today to hear more about our unbelievable deals and excellent inventory. We are ready and waiting to help your home-growing dreams come alive."
The San Francisco hydroponics store offers reputable brands that are best for all types of general hydroponics, indoor growing lights and grow room tents. Whether harvesting home-grown tomatoes or medical marijuana, Grow Shop Hydroponics is the go-to source for grow rooms, fertilizers and advice on how to help plants grow in a healthy, progressive manner.
In addition to the market's finest growing nutrients and equipment, Grow Shop Hydroponics carries a winning combination of superior general hydroponics knowledge to help client's plants reach full potential. The garden store is committed to educating beginner plant growers, as well as experienced growers, to be constantly aware of the basic necessities that keep gardens alive and healthy. The store has the staff and the best resources to satisfy all client needs.
To learn more about the discount or any of Grow Shop Hydroponics' products and services, call 650-534-2583, view the general hydroponics store on the web at http://www.gshshop.com or visit 131 S. Maple Ave. in South San Francisco.
About Grow Shop Hydroponics
Grow Shop Hydroponics is a full resource and garden store for fertilizers and nutrients. More than just a hydroponics store, the store offers key growing ingredients for general hydroponics, reliable equipment and an in-the-know staff to help all types of growers succeed.