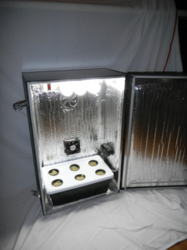 Not everybody wants to start out big
Northridge, CA (PRWEB) February 22, 2012
As the winter season has many growers turning to indoor hydroponic systems, the crew at Dealzer has come up with yet another innovative product for easily cultivating a few plants. The Cash Crop grow box is a fully stocked and fully functional grow box with everything that gardeners need to set up an easy plant cycle, and it's getting a lot of attention from customers who have heard about how easy hydro-gardening is and want to try it for themselves, but without putting in a whole lot of time, effort or money.
The Cash Crop grow box comes with dual-spectrum grow lights as well as a full nutrient kit. Growers get a self-cooled cabinet and internal materials that promote light distribution and insulation for the grow box. This compact unit, which accommodates six plants, also includes a pump and oxygenator for good water and air handling, to make sure that the sealed interior is a place for plants to prosper.
In addition to these essential elements of a grow box garden, the Cash Crop grow box offers privacy and odor control. With a lock and key system, growers prevent unauthorized access, and a carbon filter helps to contain smells from the grow area. This helps to keep the small grow cabinet separate from the room that it's stored in, rather than a nuisance to those who live or work there.
But the real news on the Cash Crop grow box is the price, which comes in under $400 with currently available limited-time discounts. The owner of Dealzer, Albert Farajian, points to the timely inclusion of this affordable, compact kit in the retailer's online catalog as an example of doing extensive research to find out what kinds of systems will provide the most benefit to those who buy from Dealzer.
"Not everybody wants to start out big." says Farajian."This helps those people who want to start up with hydroponics but don't know quite how to do it. You get everything you need, it's easy to set up, and you get it all for a low price. We also have a specific grow guarantee for this product that I think customers will love."
Visit the Dealzer website to get more details on this truly competitive grow box system, the lifetime warranty that accompanies all components, and additional product specs. The Cash Crop grow box is poised to offer hydroponic gardening capability to those with small spaces and a small budget.
###