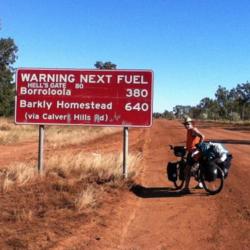 Hydro For Hunger brings simplified hydroponics to third world communities.
Perth, Western Australia (PRWEB) July 09, 2012
In 2002 hydroponics systems specialists, industry experts and hydroponic gardening enthusiasts joined forces to create the humanitarian group 'Hydro For Hunger'. Two of its supporters, Mike Biggs from CX Hydroponics, and Eric Bergeron from Canna, have just embarked on a gruelling 90 day bicycle ride across Australia to raise awareness in the cause.
Throughout the 3000 mile expedition, the pair will have no support crew: they will carry all of their supplies, including food and water, with them as they ride.
"Hydro For Hunger brings simplified hydroponics to third world communities in need of alternative ways to grow for themselves and for a living" explained Mr Biggs. "We hope that our ride will increase awareness in the organization and raise funds to supports its projects."
The journey, leaving Cairns in Far North Queensland will travel through the Australian Outback to Darwin and then to the Western Australian Kimberley coastal town of Broome.
Mr Biggs is updating CX Hydroponics Facebook page and blog with the expedition updates.
About CX Hydroponics
CX Hydroponics is right at the cutting edge of a new system of crop nutrition which is aptly named Fusion Nutrition. It has taken the best on offer from conventional crop production systems and combined them with best practice organic horticulture. The result is the delivery of a nutrition system that is without doubt the most powerful crop production system in the world today.
The team at CX Hydroponics comes from varying disciplines of horticulture and between them bring together knowledge from all around the world.
More details are available at CXHydroponics.net
About Hydro For Hunger
Hydro for Hunger is a dedicated fund-raising initiative that began in 2002. Through this program, we're raising awareness about global food shortage issues and the vital humanitarian efforts of the Institute of Simplified Hydroponics.
The Institute of Simplified Hydroponics is a 501-C (3) not-for-profit and the sole beneficiary of the Hydro for Hunger initiative. Utilizing on-site instruction and interactive training programs created by the Institute, the organization educates in-need communities around the world to become self-sufficient using fundamental hydroponic gardening methods.
With the help of independent hydroponic manufacturers, merchants, and hobbyists, Hydro for Hunger has raised more than $230,000 to date. The goals of the Institute of Simplified Hydroponics are achievable, and with assistance from you, the results could be revolutionary.
To learn more visit HydroForHunger.org