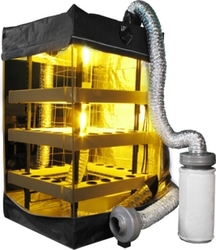 This is amazing. We figured out a way to triple your yields using Superponics and to triple the number of plants in your grow box without increasing space usage using Verticleponics.
Northridge, CA (PRWEB) October 2, 2010
Dealzer hydroponic systems is proud to introduce 5 new grow box systems that will blow the hydroponics industry away. Some of these grow boxes include the Spinner, the Buddha Box, and the Big Buddha Box. Features include Verticleponics (a system to triple the amount of plants you can grow in a small space), Superponics (a perfect mesh of 3 popular hydroponic systems), and even the ability to literally walk into your own grow room!
The Spinner is amazing, circular shaped hydroponic system that is totally unique in so many ways. First off, you can see right through it. This way, you can see all of your plants, from all angles, all the time. Second, the plants actually rotate a full 360 degree to expose every part of the plant structure to the center 600w HPS lamp. By ensuring your plants get full light exposure, you are not only protecting them from a possible death, but you are also increasing plant health which will ensure lightning fast growth. Another great aspect of the Spinner is that if you buy 2 or more Spinners, you can stack them on top of each other to save space. You would also get a central control unit that will control all of your Spinners at once. The Spinner, indeed, is one heck of a unique unit.
The Buddha Box with grow tent (also available without tent on website) is a completely fresh grow box design. The secret of the Big Buddha Box is that it can grow a whopping 48 plants in a 6' x 6' x 7' hydroponics system. The way it works is that as each plant grows on the bottom shelf, for example, and as it grows, it will have plenty of room as it will lean upon a Net Trellis system (Net Trellis is between the center lighting system and the grow shelves) and it will also grow past the shelves above it. In essence, a 5 foot tall plant will be rooted on the bottom shelf, lean towards the center light while being protected by the Net Trellis, and all other shelves will NOT get in the way being the plant will grow behind any shelves that are directly above it. This brilliant idea will allow you to grow 48 plants in a reasonable space area.
The Big Buddha Box with Grow Tent (also available without tent) is exactly like the Big Buddha Box except that it is 8' x 8' x 7, holds 78 plants, and it has an opening so that one can literally walk into their grow room! If you love hydroponic gardening, I'm sure you will truly enjoy walking into your own indoor garden. Other than that, most of the aspects of both Buddha Boxes are the same.
Finally, it is important to note that on the Buddha Box (both regular and large size), along with other hydroponics systems in our online store (including the Super Locker, Super Box, Trinity, Side by Side, and the Super Cube) now all utilize the Superponics grow system. The Superponics mix combines DWC, Bubbleponics, and Aeroponics. Also it uses Ebb n Flow for maximum root oxygenation, safety, and rapid root growth. Testing shows that Superponics increases growth speed and yields by about 300%.
We are proud to announce 3 very diverse, and 3 very optimized systems that are sure to help you with all of your indoor gardening needs. Feel free to visit our site for a free consultation. We are always here to help all of our enthusiastic customers.
###