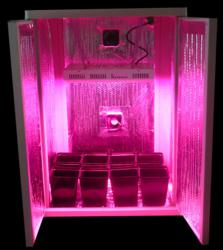 Northridge, CA (PRWEB) February 09, 2012
In the first weeks of the new year, hydroponic grow retailer Dealzer has added two new exciting products to an already diverse set of indoor gardening wares that can provide something for nearly any hydroponic gardener. These new systems are affordable, efficient and stocked with high design technology that reflects some of the newest science available to the hydroponic market. As these kinds of small, compact systems are taking off , Dealzer is getting ahead of the game by selecting the most feature-rich products that can sell at the cheapest possible prices for a first-time gardener or anyone else looking to explore the amazing world of hydroponics without spending a lot of money.
The Little Woody Grow Box is the epitome of the low budget, fully automated and assembled hydroponic grow kit. For just a few hundred dollars, buyers get a competitively designed plant environment with great air handling and other environmental controls.
The Sea of Green LED Grow Box provides even more for the small-time hydroponic gardener. One of the best innovations in this kit and other LED grow products is the LED grow light, a feature that's been getting an enormous amount of attention all around the indoor gardening community. LED grow lights are important, not just for hydroponics, but in many other kinds of consumer products. They effectively eliminate many kinds of fire risk because, unlike conventional bulbs, LED lights produce intense illumination without wasting a lot of energy radiating heat. For hydroponic projects, this means that the grower can leave plants alone for a long time frame without worrying about a fire in the grow area, or plants getting burned by high heat. The LED lights in the Sea of Green LED Grow Kit are further designed to provide just the right parts of the light spectrum for plants in every stage of their development.
Both of these hydroponics kits come with many of the best accessories and materials needed to nourish plants from the beginning to the end of the plant cycle. This includes rockwool materials for the plant's root environment, along with nutrient solutions, fans, and other features that help keep plants healthy throughout their development. There are also a number of convenience features included in each kit, such as extensively tested odor control accessories to maximize sanitation for growers. And when it comes to style, neither of these new grow products skimp on external design. With attractive veneers and security features, these kits provide more than just the basics, at a price that can rival some of the less attractive, stripped down hydroponic kits you might see at local retailers.
Buyers who want to learn more about the newest products available at Dealzer can browse the site's easy product listings and pages to get further details on each hydroponics kit and grow product. Take a look at existing warranties and other guarantees of quality, as well as current shipping deals. Hurry to get free shipping on these new kits, a limited time only deal from a retailer that goes the distance to ship high design products to a wide spectrum of customers.
###