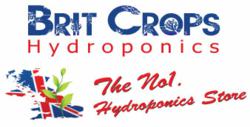 Always a fast and efficient service.
Perfect in every way.
Portsmouth, UK (PRWEB UK) 28 February 2013
Britcrops Hydroponics have recently launched a user friendly new version of their popular website, http://www.britcropshydroponics.co.uk offering a wide range of Hydroponic Supplies to buy online. Britcrops have established themselves as the leading supplier of all kind of Hydroponics supplier across the South coast with a well stocked and impressive physical store in Portsmouth, Hampshire.
Operating for over 3 years, their online presence has been given a significant boost with the new website, which makes it easier for visitors to find what they are looking for, and the result is a fast, easy to use and highly effective online store. This update reflects the ethos of Britcrops - who seem to be focused on quality and service, offering only "Quality hydroponics equipment that lasts for years, not cheap imports or unbranded goods".
For readers who are not familiar with Hydroponics, a quote from their new site sums it up perfectly: "Hydroponic gardening is the perfect way to grow plants indoors with no mess, no fuss and maximum growth results. In a hydroponic system, you grow plants in soil-free media such as rockwool or clay pebbles, and add exactly the right balance of nutrients and additives your plants need to flourish. Hydroponic plants grow faster, you can grow more of them in a smaller space, and they are generally healthier too."
Growing plants hydroponically has grown in popularity and is used across many different markets. Britcrops can cater for the total beginner, getting them set up with a starter kit which includes the essentials to get more plants growing more quickly inside. This means customers get a spacious grow tent, a high output grow lamp, a shade efficient fan and an air filter, as well as a safety tested power supply (hydroponics ballast) & 13 amp plug & cabling. All of this is available for what seems to be a very competitive price, making Britcrops an ideal choice for those after a cheap grow tent setup. They also cater for the more experience growers, the professionals who have maybe a few grow tents, but require a constant supply of hydroponics nutrients, as well as replacement lighting & heating accessories, filters, fans and silencers.
ABOUT BRITCROPS HYDROPONICS
Britcrops Hydroponics Ltd was established in 2009 by Mark Ballard, who now runs the store with assistance from his well trained and growing team. Their bricks and mortar store is based on the Oj's Industrial Park in Portsmouth Hampshire, and is open for business 6 days a week, with late opening on Wednesdays.
To find out more please contact the team via email info(at)britcropshydroponics(dot)co(dot)uk or phone 02392 669111 or to browse the online store and place an order visit http://www.britcropshydroponics.co.uk