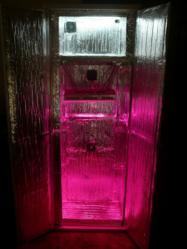 Los Angeles, CA (PRWEB) November 22, 2011
Dealzer has yet again released a new grow box. The Strategy hydroponics system is the latest installment to the Dealzer.com hydroponics grow box catalog. The Strategy is an 8 plant hydroponics system that utilizes a 240 watt LED grow light to produce fresh, organic vegetables and herbs at 5 times the speed of traditional gardening.
The Strategy grow box measures 69" tall x 25" wide x 19" deep. This grow box can be used with both soil and regular hydroponics. The Strategy grow box comes with everything you need to start growing except for the plants.
This hydroponics system also includes a powerful ventilation system with odor control utilizing a carbon filter that filters out 99.9% of all scents. The hydroponics system itself is a deep water culture that produces organic vegetables and herbs at 5 times the rate of traditional gardening. Also, the inside of this hydroponics system is lined with Mylar so that light bounces around it creating a more positive atmosphere for your plants to grow. This grow box also comes with a 3 year, no hassle warranty and a lifetime of free technical support.
The Strategy grow box includes a 240w LED grow light, a deep water culture hydroponics system, grow pots, a PH tester kit, PH up/down, Flora veg and bloom nutrients, rockwool cubes, an air pump, bubble stones, a PPM meter, timers, lock and key, Mylar insulation, a year supply of nutrients, 8 plant containers, 8 seed starter cubes, an extension cord, and hydroton rock.
The optional upgrades available for the Strategy grow box include a 300w LED grow light upgrade for $295, a glow panel veg light for $140, light traps for $45, a Co2 tank system for $295, and a Co2 boost bucket system for $135. The improved grow lights are not needed but can help the plants grow quicker in the Strategy hydroponics system. The light traps are great if you are looking for stealth grow box. The co2 tank or co2 boost systems are fantastic as they increase production by up to 50%.
About Dealzer.com
Dealzer is a hydroponics system provider and has a catalog with over 50 hydroponics grow box and hydroponics grow tent systems. Dealzer also offers LED grow lights, HID grow lights, and hydroponics supplies.
For more info, visit Dealzer.com or simply call 888-HYDRO-81!
###