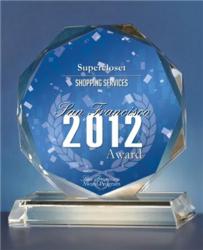 San Francisco, CA (PRWEB) August 14, 2012
SuperCloset is passionate about hydroponics and determined to educate and enlighten the world about the societal and environmental benefits of growing with this budding technology. SuperCloset hydroponics systems and grow box products are all designed, engineered, and manufactured in San Francisco, California.
The San Francisco Award Program is an annual awards program honoring the achievements and accomplishments of local businesses throughout the San Francisco area. Recognition is given to those companies that have shown the ability to use their best practices and implemented programs to generate competitive advantages and long-term value.
Various sources of information were gathered and analyzed to choose the winners in each category. The 2012 San Francisco Award Program focuses on quality, not quantity. Winners are determined based on the information gathered both internally by the San Francisco Award Program and data provided by third parties.
SuperCloset products are perfect for the novice hobbyist through master grower as every imaginable high quality component comes with the grow boxes and hydroponics systems. Because of the excellent layout design and support material included with each system, most SuperCloset customers are up and growing within 90 minutes of receiving their product. SuperCloset takes the guesswork out of growing so their customers can focus on the fun and not the fabrication of indoor gardening systems. For more information go to http://www.supercloset.com