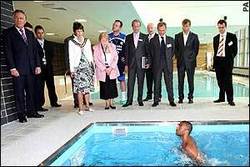 Middletown, PA (PRWEB) May 14, 2008
For the first time in the history of European Football's Champions League final, two English teams will be squaring off against one another. The Chelsea and Manchester United Football Clubs will clash for the European Cup on May 21st in Moscow, Russia. The European Champion Clubs' Cup is widely considered to be the most prestigious club trophy in the sport.
This upcoming football match has the world abuzz with anticipation; the event is especially exciting for an aquatic therapy equipment company from Middletown, PA. HydroWorx International, Inc. manufactures underwater treadmill s for aquatic rehabilitation and exercise--and both Chelsea and Manchester United are prominent HydroWorx customers.
A large part of Chelsea's success has been due to the levels of health and fitness of the club's players; they get a rehabilitation and conditioning boost from HydroWorx's flagship product--the 2000 Series pool. It boasts a host of high-performance features which represent the cooperative efforts of visionaries, engineers, and clinicians. The moveable floor, underwater treadmill, resistance jet technology, computer and camera systems, and automated water temperature capability satisfy the varied demands of traditional physical rehabilitation, as well as those of top, world-class athletes who recognize the benefits of advanced hydrotherapy.
Chelsea FC head physician Bryan English states, "Since Chelsea FC moved into their new training ground facility we have had the luxury of a Hydroworx 2000 that has without doubt assisted in getting injured players back on the field of play sooner than we would have had we not purchased this equipment. The unquestionable benefits of aquatic therapy in rehabilitation are crucial in a sport where a quick and safe recovery can mean the difference between success and failure. Adding underwater treadmill exercises, sometimes on day one after an injury, moves the player into more advanced stages of rehabilitation with ease.
Manchester United has been fortunate this year in the injury department as well. Though key players have been banged-up, the physiotherapist team has rehabbed and returned them to play. The club utilizes a HydroWorx 500i Series pool for their aquatic physical therapy. Ground-based gait training and sport-specific activities are easily duplicated on the variable speed underwater treadmill. Strategically-placed, high-powered water jets can be used for resistance training and deep-tissue massage. Athletes can utilize the indoor pool's raised rear platform for exercises where additional body-weight loading is desired. A state-of-the-art heating unit allows for fully-automated water temperatures.
Interestingly, this proud football club owns the first of HydroWorx's pools with the revolutionary InstaFit option. These new, versatile pools offer a convenient, plug-in answer for sports and healthcare professionals who need immediate access to the benefits of aquatic PT. The units leave HydroWorx headquarters skirted, prepackaged, and ready to perform. The 500i is up and running after it is set in place and connected to an electrical source at its rehab and exercise destination.
John Davin, a physiotherapist with Manchester United explains, "The HydroWorx pool provided the perfect platform for our players to prepare and recover in quick succession during such an intensive season. Without this valuable facility we may not have had such a large number of our 1st team squad available for selection. This has without question contributed to Manchester United challenging to retain the Premiership title and reaching the Champions League final"
About HydroWorx:
HydroWorx specializes in designing, manufacturing, and marketing the world's finest water therapy and conditioning equipment for the home, sports, healthcare, eldercare, and fitness markets. The company leads the industry in scientific research and data supporting the therapeutic and rehabilitative properties of hydrotherapy. HydroWorx has sold residential pools and professional aquatic therapy pools in all 50 states and twelve countries. HydroWorx's extensive and elite client list includes Dr. James Andrews and Dr. Richard J. Hawkins, renowned orthopedic surgeons, the, the University of Texas, USC, LSU, Ohio State, as well as Nike, the San Antonio Spurs, and Notre Dame. The Super Bowl champion New York Giants are also among hundreds of other distinguished customers.
###