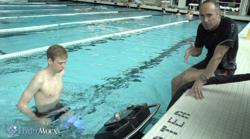 "The HydroWorx unit is one of the most valuable pieces of equipment I use with my athletes; it's integral for their success because it allows them to get extra miles without injury," - Alberto Salazar
Middletown, PA (PRWEB) September 14, 2011
When running star Mo Farah snagged the gold medal in the 5000m at the World Championships in Daegu, South Korea, it was clear that the talented Brit made the right choice when he decided to work with Alberto Salazar. Salazar, who has systematically embraced nontraditional coaching methods for the elite Oregon Project athletes under his tutelage, has proven through Farah and other athletes like Galen Rupp that there are great strides to be made… particularly underwater with the HydroWorx portable treadmill.
Salazar's strategy of supplementing his Oregon Project runners' weekly regimens with considerable mileage in a portable HydroWorx X80 underwater treadmill has propelled Farah and Rupp into an international spotlight. Though not the only "secret weapon" in his arsenal, the HydroWorx unit has become a coaching staple in Salazar's eyes.
"The HydroWorx unit is one of the most valuable pieces of equipment I use with my athletes; it's integral for their success because it allows them to get extra miles without injury," Salazar avers. "It helps athletes like Galen Rupp avoid missing a full day of training. This is the closest thing to running outside on the land that there is."
Adds Rupp, who placed seventh in the 10,000m and ninth in the 5,000m at the World Championships, "I think the HydroWorx is one of the biggest reasons I've had success. After running outside, I jump in the pool and run and I feel great the next day."
Anson Flake, president and co-founder, HydroWorx, is pleased that his company's product continues to help athletes like Rupp achieve their goals. "Knowing that our X80 underwater treadmill has been an integral part of the Oregon Project athletes' successes is enormously satisfying. They've worked hard under the leadership of Alberto; we're looking forward to seeing them compete in the 2012 Olympics next summer."
Throughout the coming months, Salazar's team will continue their intensive, tactical workouts at their training facility in Portland, Oregon. "We're gearing up for London," notes Salazar. "And HydroWorx is going to help our athletes continue to surprise and inspire."
About HydroWorx®
HydroWorx, based in Middletown, Pennsylvania, offers a wide range of underwater treadmill pools, underwater treadmills, and peripheral products and services. Every day, more than 15,000 athletes and patients use HydroWorx technology to recover from injuries and health conditions.
More information about HydroWorx can be found at http://www.HydroWorx.com.
###