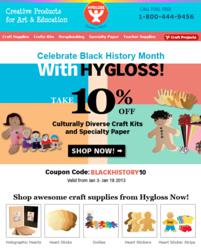 Hygloss educational craft supplies are the perfect medium for children to learn about black history in a fun way...
Wallington, NJ (PRWEB) January 03, 2013
February is Black History Month, and Hygloss Products, the leading source for craft supplies and teacher supplies, is honoring the occasion by offering customers a special discount coupon. From January 3 to January 18, 2012, customers can save 10% off craft kits, arts & crafts supplies, and specialty paper needed to decorate classrooms and to create posters or projects honoring the achievements of Martin Luther King and other notable African Americans. To take advantage of the sale, customers should present coupon code MLK10 at the time of ordering.
Black History Month, or National African American History Month, has its origins in 1926, when historian Carter Woodson established "Negro History Week." Since 1976, the month of February has been officially designated as Black History month: a time to commemorate influential African Americans throughout U.S. history. Every year, schools and communities devote a month to celebrating black history through special events, lectures, projects, and craft activities for preschool, kindergarten and elementary school children.
Teachers, parents, and crafters may be especially interested in Hygloss Products which encourage multicultural awareness in children, such as: Culturally Diverse Family Cutouts, Culturally Diverse People Kit (great for a bulletin board decoration or wreath), Paper Head and Hand Shapes (in five culturally diverse colors, teaching kids that even though we have different skin tones, we are all the same), Culturally Diverse Card Stock, Rainbow Kids Classroom Borders (promoting themes of unity and uniqueness), Multicultural Kids Classroom Borders, and more.
"Hygloss educational craft supplies are the perfect medium for children to learn about black history in a fun way and to creatively express pride in the achievements of African American men and women such as Martin Luther King, George Washington Carver, Booker T. Washington, Rosa Parks, Harriet Tubman, and others," says Hygloss Products President Moshe Neurath. "These figures helped shape the attitudes of society today; by celebrating their lives, children of all colors and cultures learn that they too have the power to make a difference in this world."
About Hygloss Products:
Since 1950, Hygloss Products has offered innovative arts and crafts supplies to ignite creativity in children and adults. Teachers, parents and hobbyists alike enjoy the superior quality of Hygloss craft supplies, specialty paper and classroom essentials. Children's minds are ever expanding, and that's why the Hygloss product line is constantly being updated. All Hygloss Products come with a money back satisfaction guarantee because we're not happy until you are. Give yourself a fabulous crafting experience with unique and exclusive supplies from Hygloss Products.
Hygloss Products
800-444-9456