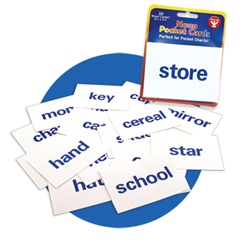 This is great news for our vast network of storeowners, who are able to benefit from the year-end sale...
Wallington, NJ (PRWEB) December 04, 2012
Hygloss Products, the leading source for teacher supplies and classroom essentials, is offering retailers 50% off products which will be discontinued in the New Year. From now until December 30, 2012, resellers have the opportunity to stock up on select craft supplies and teacher supplies before they run out.
To take advantage of the sale and for a complete list of discontinued products available, retailers should download the order form, print it out, and fax it to the number provided. Some of the discounted items include creative learning posters (slashed from $7.50 to $3.75 apiece), Word Pocket Noun & Verb Cards (excellent for teaching reading skills and on sale for a mere $0.85), Upper & Lower Case Alphabet Pocket Cards (helping kids learn the ABC in a fun and interactive way), and multi-colored Mighty Bright library pockets.
Teachers, parents, and children are always seeking innovative craft supplies to complete their school projects or put a finishing touch on their homemade gift activities. With 50% off Hygloss products such as Mighty Bright Shapes and Shimmering Hearts and Stars (an assortment of red and pink hearts, or gold and silver stars, which add a finished look to any craft project or decoration), retailers can enjoy stocking their inventory with popular products at prices they can afford.
Craft store owners might be especially interested in soon-to-be-discontinued items which promote reading in young children and students, such as Picture Name Plates and Bookmark Kits. Each bookmark kit contains everything students could ever wish for to create, decorate, and personalize their bookmark, including 12 holographic, metallic & mirror bookmarks, beads, gummed shapes, tissue squares, plastic lacing, and plenty of glitter for a dazzling finishing touch.
To partner with Hygloss Products and become a reseller, interested retailers should visit website and sign up. All qualified resellers are eligible for exclusive benefits, including advanced notification of new products and promotions, bulk order discounts, net 30-day billing, easy online ordering, and a special re-order function for repeat customers.
"Our constantly expanding product line means that we sometimes have to say goodbye to products in our stock in order to make room for new ones," says Hygloss Products President Moshe Neurath. "This is great news for our vast network of storeowners, who are able to benefit from the year-end sale by enjoying an unprecedented half price off products which are still in high demand."
About Hygloss Products:
Since 1950, Hygloss Products has offered innovative arts and crafts supplies to ignite creativity in children and adults. Teachers, parents and hobbyists alike enjoy the superior quality of Hygloss craft supplies, specialty paper and classroom essentials. Children's minds are ever expanding, and that's why the Hygloss product line is constantly being updated. All Hygloss Products come with a money back satisfaction guarantee because we're not happy until you are. Give yourself a fabulous crafting experience with unique and exclusive supplies from Hygloss Products.