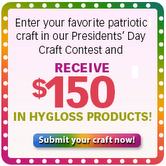 What better to time to showcase projects with a patriotic flair than Presidents' Day?
Wallington, NJ (PRWEB) January 22, 2013
In honor of Presidents' Day, Hygloss Products, the leading source for craft supplies and teacher supplies, is hosting a national Presidents' Day Craft Contest. From January 15 to February 18, 2012, teachers, moms, crafters, and craft bloggers are invited to submit their original Presidents' Day craft ideas via this form. Each entry should include a list of the craft supplies needed, step-by-step instructions, and a photograph of the finished project.
Presidents' Day, originally known as Washington's Birthday, honors the lives and works of the presidents of the United States. The winner of the Presidents' Day Craft Contest will take away three patriotically themed prizes – an American Flag Tissue Craft Kit, an American Patriotic Craft Activity Kit, and a Patriotic Craft Stencil Set – as well as a $100 gift certificate from HyglossProducts.com, bringing the total value to $150.
Furthermore, the winner will be socialized across the Internet and enjoy wide media exposure, including an online press release which will feature the winning submission. The selected craft will be featured prominently atop the Hygloss Products "Certified Hygloss Creations" page, where other selected entries will also be showcased.
All noteworthy entrants will be eligible to receive a special HTML code for an exclusive Certified Hygloss Crafter Badge, which they can embed on their own blog, website, or school website.
As President's Day approaches, schools organize student activities and lessons about the presidents of the United States, including craft projects for preschool, kindergarten, and elementary school children. Teachers and pupils may be particularly interested in Hygloss Products such as the Group Supply Pack/Patriotic Pinwheel, as well as a wide range of specialty papers in red, white, and blue.
"Fun, educational craft activities are what Hygloss is all about," says Hygloss Products President Moshe Neurath. "What better to time to showcase projects with a patriotic flair than Presidents' Day? While we remember monumental moments in U.S. history, we look forward to many contest submissions honoring the past and future of our nation and this presidential holiday."
About Hygloss Products:
Since 1950, Hygloss Products has offered innovative arts and crafts supplies to ignite creativity in children and adults. Teachers, parents and hobbyists alike enjoy the superior quality of Hygloss craft supplies, specialty paper and classroom essentials. Children's minds are ever expanding, and that's why the Hygloss product line is constantly being updated. All Hygloss Products come with a money back satisfaction guarantee because we're not happy until you are. Give yourself a fabulous crafting experience with unique and exclusive supplies from Hygloss Products.
Hygloss Products
800-444-9456