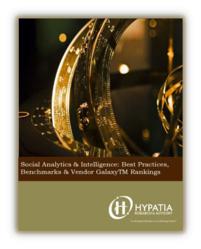 Las Vegas,Nevada (PRWEB) October 23, 2012
The 21st century global information market is comprised of 24-hour news, entertainment and information delivered on billions of intelligent devices. Today's business users and consumers have a virtually limitless set of choices on how, when and where to get the content they want from an array of providers. Companies have to be smarter than ever to grow revenue and develop business models that respond to the demand of their clients. They need to firstly understand their audience – their behaviors, personalities, likes and dislikes in order to capture, connect and leverage the valuable information that allows them to anticipate customers' changing preferences and rapidly turn these insights into new offerings.
Using advanced analytic technologies, news outlets, journalists, movie studios, retailers and more can now better understand, respond and predict public sentiment by analyzing public tweets. By capturing data about customer behavior, usage patterns, and interest, businesses can improve production, cross-channel distribution, customer service and implement marketing strategies that are in line with customer sentiment.
It's often said sports is a metaphor for life. But with Big Data now changing so many aspects of the game, perhaps it should be said sports is becoming a metaphor for business. For sports, Big Data is a game changer -- literally. In short, major sporting events are becoming living labs demonstrating how Big Data transform all aspects of the game -- whether on the court or in the board room.
Like big businesses and governments, the world of sports is finding new ways to uncover hidden insights from Big Data to up their game. Off the court, the same kinds of data-driven, interactive experiences fans, players, coaches, the media and event organizers are embracing are being used to monitor babies in prenatal wards, help police forces prevent crime and enable financial services firms to improve customer service.
Participants & Roles:

Leslie Ament, Vice President Research and Senior Analyst, Hypatia Research: Moderator
Rod Smith, Fellow and Vice President, Emerging Technologies, IBM
Deepak Advani, Vice President, Business Analytics, IBM
Andrew Shelton, Head of Sports and Science, Leicester Tigers,
Mark Wyllie, CEO Flagship, IBM Partner
About
Industry analyst and market research firm Hypatia Research Group delivers high impact market intelligence, industry benchmarking, best practice, and vendor selection research for how businesses use technology and service providers to capture, manage, analyze and apply customer and market intelligence to enhance performance and accelerate growth. Coverage includes: Customer Management (CRM), Business Intelligence, Advanced Analytics, Customer Analytics, Social Media, Text Analytics, Marketing Automation, Information Management, Customer Data Management/Data Quality and GRC. Since 2001, clients have relied on Hypatia for industry insight, expertise and independent market research for guidance in assessing various technology and service options.
Contact:
Research(at)HypatiaResearch(dot)com
781-862-5106