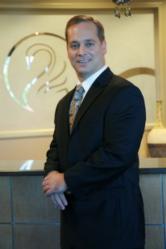 "The results of the ultrasound treatment are immediate and are often permanent"
Atlanta, GA (PRWEB) October 23, 2012
While sweating is a normal and necessary body function, excessive underarm sweating can be embarrassing. Always having a sweaty shirt is embarrassing and a nuisance. This condition of excessive sweating is called hyperhidrosis, and there are treatments available.
Injectables are available for non-surgical treatments. BOTOX Cosmetic is approved by the Food & Drug Administration (FDA) to treat hyperhidrosis. Also, Dysport, another botulinum toxin, is often used to treat excessive sweating. These will require multiple injections in the underarm areas in a single appointment. Both of these injectable treatments are temporary and last up to one year.
However, Atlanta plastic surgeon, Dr. Dean Fardo, now offers another treatment to permanently decrease excessive underarm sweating. Dr. Fardo comments, "We have seen success with the patients coming to us for this condition, and we've decided to expand this procedure offering a real resource for people dealing with excessive sweating."
Dr. Fardo utilizes ultrasound technology as an alternative to traditional liposuction because the ultrasonic energy helps stop the sweat glands from excessive secretion.
Using the ultrasonic energy, the fat deposits and sweat glands in the armpits are destroyed. This controlled damage to the sweat glands eliminates their ability to produce excessive sweat.
"The results of the ultrasound treatment are immediate and are often permanent, "says Dr. Fardo. "We have many patients who have had years of frustration dealing with this condition and leave our offices very happy knowing they won't have to always think about their sweating and always have extra shirts with them. It's just a relief and an improvement to quality of life."
For questions about treatment of hyperhidrosis, Atlanta plastic surgeon, Dr. Dean Fardo offers free consultations. Please call (770) 667-0904.
About The Swan Center:
The Swan Center for Plastic Surgery is a leader in the aesthetic industry specializing in surgery of the breast, body and face.
The Swan Center for Plastic Surgery's on site operating facility, Alpharetta Aesthetic Center is accredited by the Joint Commission on Accreditation of Healthcare Organizations (JCAHO). The Joint Commission is an independent, not-for-profit organization; and is the nation's oldest and largest standards-setting and accrediting body in health care, focusing on patient safety and quality of care. The Atlanta plastic surgeons at The Swan Center are board-certified by the American Board of Plastic Surgery, among a multitude of further professional accomplishments.
Swan Center for Plastic Surgery
4165 Old Milton Parkway, Suite 200 East
Alpharetta, GA 30005
http://www.swancenteratlanta.com
(770) 667-0904 or 800-816-1057