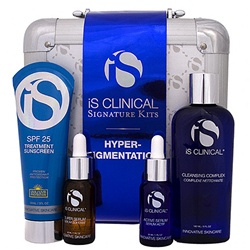 Start your new day with each product for a different time.
Los Angeles, California (PRWEB) September 09, 2011
Skincare Market Inc. introduces its latest kit for the iS Clinical called the iS Clinical Signature Kit - Hyperpigmentation. This product is used for people with hyper pigmentation. It is recommended to buy the whole kit because it comes at a cheaper price than buying the whole kit all at once, plus a travel case is included which will fit all the items perfectly.
Included in this kit is the cleansing complex, active serum, super serum, and SPF treatment sunscreen, and the travel case for all the items. The cleansing complex is a liquid-gel formula that contains glycolic and salicylic acid with vitamins that sooth and cleanse while preparing the skin for treatment and nourishment. The active serum acts as the second base nourishing, smoothing, calming and preventing acne while reducing fine lines and wrinkles, pigmentation and smooth rough texture for a smoother, brighter complexion. The super serum will reduce the appearance of scar tissues, uneven pigmentation, stretch marks, acne, and also heal collagen production. The SPF treatment sunscreen is to put on last for protection against UVA and UVB damage while also reducing redness and inflammation.
# # #