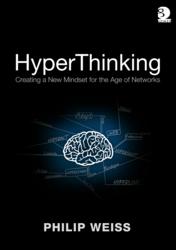 The book is already attracting international publishers. Gower, the book's publisher, has had requests for copies in eleven languages, suggesting the concept of HyperThinking "crosses cultures and languages, and is of the moment."
(PRWEB) December 11, 2012
Over the last 14 years of advising leading multinational companies, Philip Weiss developed a unique approach designed for the modern executive to adapt and thrive in this age of vast networks, digital communications and perpetual change. The HyperThinking model is predicated on the assumption that the most important skill required to help you and your organization grow is the mindset of individuals.
Hyperthinking has been summarised in a three minute video: video.
More information, a free chapter download, and endorsements like the ones below, can be found at Gower Publishing and Hyperthinking.net.
On Tuesday 11th December, Phil Weiss will be presenting his book at Solvay, the prestigious MBA school in Brussels, as part of the Business Voice series the school organizes.
*What people are saying about HyperThinking:
'Phil Weiss invented the concept of Hyperthinking. In these pages he brings his ideas alive and shares the principles with a flair for storytelling and an eclectic mix of sources, examples and case studies. He's the Tony Buzan of the internet generation.' - Marc Wright, Chairman, simplygroup
'Philip Weiss is one of the most creative thinkers of his generation. Straight from Oxford he founded the ZN agency, which engaged major global corporations from the dawn of the internet age. HyperThinking is a distillation of his experience at ZN, and provokes us all to benefit from the family of internet technologies, in the way we handle life and work in a rapidly changing world...' - James Arnold-Baker, former CEO, Oxford University Press and founding of Chairman of Doctors.net.uk
For more information on the book or to arrange interviews with the author, please contact Alejandra Laiton or Oana-Maria Vieru at ZN + 32 2 554 06 70 or email hyperthinking@zn.be.