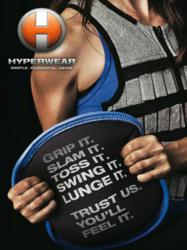 Hyper Vest PRO and SandBell selected by Daily Grommet
Austin, Texas (PRWEB) February 24, 2012
Hyper Wear Inc., a rapidly growing lifestyle brand and fitness equipment innovator, is pleased to announce that The Daily Grommet has selected its products as "grommets" to feature on the dailygrommet.com. The Hyper Vest PRO weighted vest is a selection for its unique, thin, stylish and patented performance and the SandBell neoprene sandbag training weight for its versatility to outperform a medicine ball, dumbbell, kettlebell and more while being safer for people and floors. Hyperwear fitness products are already in wide use in the physical education equipment, athletic equipment, crossfit, military fitness, and running weight vest markets.
As outlined in the "Our Story" page of The Daily Grommet website: "The Daily Grommet is an online marketplace and the birthplace of Citizen Commerce, a movement that gives people the information and tools to support products that align with their own values. It's a powerful new way to discover, share, and sell consumer products.
Every day at noon we launch one inventive consumer product or service and broadcast its story across the web. People all over the world give us suggestions for products. They tell us why they should be Grommets. We test and curate the best ideas, and then create a video review and word of mouth campaign for each product. When a product launches on Daily Grommet, we host a discussion board on our site where people can chat directly with the creator of the product and with us."
"As a startup health and fitness equipment company emerging from its bootstrap roots to build its brand of SIMPLE. POWERFUL. GEAR., we are deeply honored to have not one, but two of our workout equipment products selected as a "grommet," said Hyperwear CEO Denver Fredenburg. "Our founder and inventor, Cosmo Raines, continues our commitment to bring inventive new consumer fitness products to make people of all ages fitter and healthier."
Hyper Wear's other workout equipment consumer products include the Hyper Vest COOL™ cooling vest for athletes, and the SteelBell® and WaterBell® dynamax free weights are the ultimate tools to improve on sandbag exercises, the medicine ball, dumbbell and kettlebell.
As part of its growth strategy, Hyperwear continues to add workout videos include "Elements of SandBell Training," part of a special Daily Grommet offer, and the soon to be released "SandBell Total Body Workout" and "SandBell Slam."
ABOUT HYPER WEAR
Hyper Wear, Inc. was founded to bring innovative products to market in the areas of fitness equipment, health and wellness. Its solutions include the Hyper Vest® PRO weight vest, Hyper Vest COOL™ ice vest for pre-cooling and recovery, SandBell® sandbag weights, SteelBell® steel shot-filled weights, and WaterBell™ water-filled weights. Men's Health Magazine http://www.menshealth.com described the Hyper Vest as "the best" weight vest, and the non-profit American Council on Exercise (ACE) awarded the Hyper Vest weight vest its highest five-star rating in an independent review http://www.acefitness.org. Hyper Wear's products have also been recommended by or featured in Real Simple Magazine http://www.realsimple.com, Experience Life Magazine http://www.experiencelifemag.com , ESPN Rise, Muscle and Fitness, Men's Fitness, Women's Health, the Diet Detective, Dance You're A** Off television show, the L.A. Times, and Chicago Tribune. For more information on Hyper Wear, please visit http://www.hyperwear.com or call toll free 888-460-0628.
###