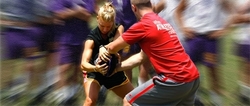 I'm impressed. I think they're the real thing.
Austin, TX (PRWEB) October 20, 2009
Austin-based, fitness and health startup, Hyper Wear® is pleased to announce that Muscle and Fitness magazine (November 2009) featured the Hyper Wear SandBell in their training "Toy Box." In addition, http://www.muscleandfitness.com includes an interview with Coach Jeff "Mad Dog" Madden - University of Texas Longhorn's football strength and conditioning coach - on his use of SandBells.
Muscle and Fitness says: "These versatile tools can add some interesting variety to your home gym without sucking up a lot of space. We like the dynamic options they give you. Not only can you use them like traditional weights, but you can also throw them, drop them, heave them and, when all is said and done sit on them after your workout. Soon Hyper Wear plans to offer SteelBells™, neoprene bladders filled with steel shot, in weight increments up to 200 pounds."
In his interview, Coach Jeff "Mad Dog" Madden comments, "I'm impressed. I think they're the real thing."
SandBell sandbag weights have already been selected for strength and conditioning training at leading professional and NCAA Division One programs and the military, such as the Houston Rockets, the University of Texas, and the U.S. Navy. Ranging in size from 2 lb to 50 lb, they are also becoming widely adopted in physical education programs as a safe and effective strength training weight for youth. The soft but tough neoprene bags are also safe for any floor and can be used on wood courts as well as in the home.
Hyper Wear founder Cosmo Raines explains: "The SandBell's patent-pending fill mechanism allows the option of shipping the SandBell empty, thus saving the customer a lot on shipping and allowing the bag to be filled to the desired grip characteristics. The customer can purchase play sand locally for very low cost and can even empty the bags to travel. It's the most promising new strength and fitness tool to come to market in a very long time."
About Hyper Wear:
Hyper Wear, LLC ("Hyper Wear®), was founded in 2006 by Cosmo Raines to bring innovative products to market in the areas of sports performance training, physical education and fitness, tactical training, and health and rehab. Its innovative products include the Hyper Vest® Pro, Hyper Vest Cool™ for precooling and recovery, SandBell™ sandbag weights and SteelBell™ steel shot filled weights. In May 2009, Men's Health Magazine described the Hyper Vest the best weight vest. Nationally recognized speed, strength, and agility coach and fitness expert, Jim Liston, M. Ed., CSCS, chairs the Hyper Wear Advisory Board, and is President and Co-Founder of CATZ (Competitive Athlete Training Zone - http://www.catzsports.com) and Advisor to Men's Health Magazine and Children's Health Magazine and the FitSchools Foundation mhfitschools.menshealth.com. For more information on Hyper Wear, visit their website at http://www.hyperwear.com or call toll free 888-460-0628.
###