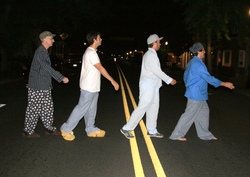 Non-profits have been hit very hard by the economy
Moorestown, New Jersey (PRWEB) October 4, 2009
Hypno Design, Inc., a marketing, and design firm, has selected 5 lucky non-profit organizations for their 7th annual CreateAThon®, scheduled for October 15-16, 2009. CreateAThon is a 24-hour marketing marathon during which Hypno Design and their talented cast of volunteers: artists, designers, photographers and copy writers, forgo sleep - pulling an "all-nighter", working on creative marketing projects for deserving local non-profit organizations on a 100% free, pro-bono basis.
"Non-profits have been hit very hard by the economy,"said Alison Judah, President, and CEO of Hypno Design. "One of the organizations we are helping had to completely halt its education program until the Pennsylvania state budget gets resolved. There's never been a better time to help these groups, which otherwise might not ever afford professional marketing materials, advertising and design work. Every project we are giving them this year includes a fund-raising component, and we know that the work we do on CreateAThon night is going to directly generate dollars for them. We feel honored to help these groups that do so much to help our communities."
The 5 non-profits selected to receive CreateAThon services this year include: Art-Reach - a Philadelphia group which connects under-served audiences (including people with physical and developmental disabilities, as well as at-risk youth, the elderly, and lower economic status individuals) with the Arts; Community Women's Education Project - a Kensington neighborhood group which helps low-income women improve their lives and achieve self-sufficiency; Crossroads Programs Inc. - which helps homeless, abused, abandoned or at-risk children in Southern and Central New Jersey; The Hearts and Smiles Foundation - which provides assistance to low-income families with special needs children; and Pennypack Farm and Education Center - which is a CSA (Community Supported Agriculture) and educational center in Horsham, Pennsylvania.
Hypno Design will create logos, brochures, websites, advertising, TV campaigns and radio scripts during the 24 hour creative work jam at Hypno's offices. The marketing event begins at 8am on Thursday morning and extends until 8am the following day when the non-profits start to arrive to see, and proofread the work that was created for them through the night before. After a final review and approval session, with red markers given to the non-profit clients, the corrections are quickly edited by a skeleton crew and the files are sent to a local printer, Burlington Press, who is also generously donating all of the printed materials.
Over the past 7 years Hypno Design's CreateAThon event has provided marketing services to 55 non-profit organizations in the Philadelphia/South Jersey region, producing a total of 211 projects so far. This year the total rises to 60 non-profits that will have benefitted from Hypno's service. The market value alone of the work produced for these groups is estimated at over $1,000,000, all provided at absolutely no cost to the non-profits. Nationally, CreateAThon has helped more than 1058 nonprofit organizations by delivering over 2,300 marketing projects valued in excess of $9.5 million, over the past 12 years.
About Hypno Design, Inc: Established in 1994, Hypno Design provides a broad array of strategic marketing, advertising, branding and graphic design services and specializes in website development and internet marketing. Clients served by Hypno Design include those in healthcare, pharmaceutical, publishing, entertainment, professional services and retail sectors. Hypno Design is owned by Moorestown residents, Alison Judah and Richard Cardona. Hypno Design's goal is to "Make People Happy" through the work they create for their clients. More work from CreateAThon can be seen by visiting this Philadelphia website design company's own website.
###