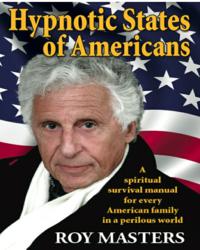 Grants Pass, OR (PRWEB) May 19, 2011
Manipulation, diversion, control and influence; these tactics are used on each of us and are employed by even the most unsuspecting individuals, leaders and so-called experts. "Hypnotic States of Americans," the new book by author and hypnotherapist turned DE-hypnotherapist Roy Masters, seeks to show individuals how to become less susceptible to past and present hypnotic and traumatic influences and thus, more able to live in true freedom.
Every day, people are taught to participate in crafty and shrewd behaviors to sell, engage and surprisingly, frustrate others, to a point where we all become accustomed to these sleep-inducing strategies. Essentially, we grow into a complacent and hypnotic state and become oblivious to how this dangerous influence works. But who educates us on how to escape this state of mind and not be influenced by these behaviors?
The key to truly breaking free from this sedated condition and to avoid an unhealthy and unnecessary dependence on others, lies in this rare book. The first step needed in order to become awake and aware of how hypnotic influence works and how to counter that influence calls for a review of the first chapter of "Hypnotic States of Americans," which can be previewed free at http://www.fhu.com.
About the Author:
Roy Masters continues to broadcast the longest running counseling show, titled "Advice Line," in talk radio history. Over years of counseling and personal experience in hypnotherapy, along with more than 53 years of DE-hypnotherapy, Roy realized that the root power of negative suggestion lay in our wrong emotional response. After years of searching, he discovered a remarkably effective technique for restoring individuals to their former estate and has been teaching it-with spectacular results- ever since.
Masters' unmatched track record in helping people overcome the most serious mental and emotional problems, now comprises the centerpiece of a successful program with the U.S. military titled "Patriot Outreach." Please visit http://www.fhu.com to read more about Roy Masters.
The title originally chosen for this book was "The Hypnotic States of America." However, before final publication, Mr. Masters realized that since the problem really lies with Americans as individuals and not with a collective or group, a better title would be the one chosen: "Hypnotic States of Americans." The book is now available on Amazon and through http://www.fhu.com.
###