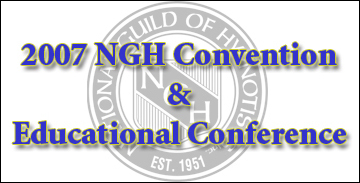 Merrimack, NH (PRWEB) April 26, 2007
This summer, the National Guild of Hypnotists is offering a certified consulting hypnotist course as part of the NGH Summer Institute and the NGH Convention and Educational Conference. For many who will attend, learning the techniques of hypnotism offers an additional proficiency that they will add to their skills and credentials as nurses, counselors and coaches. For others, becoming a certified consulting hypnotist marks a major career transition and the promise of new opportunities to help people in meaningful ways. Some students in the NGH certified consulting hypnotist course enroll to learn hypnotism purely for themselves. They see hypnosis certification as a way to increase their self-confidence and master techniques of visualization and self-hypnosis.
Every year the NGH Convention draws nearly two thousand hypnotists, therapists, counselors and health care professionals looking to expand their training, add certifications and network with others in their profession. Also attending the convention are many newcomers to the field of hypnotism. In 1988, Patricia E. MacIsaac was one of those newcomers, enrolled in the certified consulting hypnotist course. Today Patricia MacIsaac, LPN, CMI, is certified to teach both basic and advanced NGH hypnosis courses and will co-teach the Summer Institute certified consulting hypnotist course for the National Guild of Hypnotists.
Patricia MacIsaac is the owner and operator of the South Shore Hypnosis Center in Hingham, MA and is a Board Certified Hypnotist Examiner. She is a former National Guild of Hypnotists Instructor of the Year, recipient of the Women Mean Business Award by the South Shore Women's Business Network, Educator of the Year at the 2006 NGH Convention, and a recipient of the Hypnotism Hallmark Award. In addition to receiving the National Guild of Hypnotists Meritorious Service Award, her picture has appeared on the cover of the Journal of Hypnotism, an international publication for which she was interviewed. She serves on the National Guild of Hypnotists Advisory Board and has been inducted into the Order of Braid. Patricia MacIsaac is a frequent lecturer and facilitator of workshops and seminars and has been a guest speaker on radio and television talks show in the New England area.
Ed Morris, BS, MEd, CI, shares the teaching responsibilities of the consulting hypnotist certification class with MacIsaac. Morris has degrees in education and a professional resume that includes teacher, guidance counselor, private school headmaster and education director. He is the past superintendent for the Maine State Department of Mental Health and maintained a private practice in hypnotism for over 18 years. A past recipient of the National Guild of Hypnotists Instructor of the Year award, Ed Morris has been inducted into the Order of Braid.
Students enrolled in the National Guild of Hypnotists certified consulting hypnotist course must complete a 100-hour theory and practicum, plus selected convention seminars, workshops and a guided independent study in order to be considered for consulting hypnotist certification. The consulting hypnotist certification course will be held August 5 through 12, 2007. Enrollment in the course includes all amenities and registration for the National Guild of Hypnotists Convention, and Educational Conference, scheduled for August 10, 11 and 12 at the Royal Plaza Hotel & Trade Center in Marlborough, MA.
This year marks the twentieth year of the annual NGH Convention. PeachTree Professional Education, Inc., one of the nation's oldest and largest providers of continuing education credits for professionals in the field of mental health, will provide NAADAC, NBCC and CA CNE approved credits for select NGH courses. All of the 280 seminars and workshops offered during the NGH Convention count toward NGH continuing education requirements.
To learn more about the National Guild of Hypnotists Convention and Educational Conference contact the NGH Convention registrar at (603) 429-9438. For NGH Convention hotel reservations, call (508) 460-0700. Additional information about hypnotism, a career as a hypnotist, the NGH, the Summer Institute or the 2007 NGH Convention is available at http://www.ngh.net and http://www.nghconvention.com.
The National Guild of Hypnotists, Inc. is a not-for-profit, educational corporation. Founded in Boston, MA in 1951, the Guild is a professional organization comprised of dedicated individuals committed to advancing the field of hypnotism. National Guild of Hypnotists president, Dr. Dwight F. Damon, is available for media interviews at (603) 429-9438.
# # #