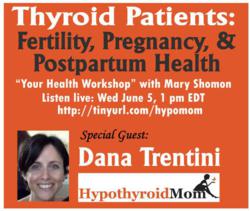 So excited to be on internationally-known thyroid advocate Mary Shomon's radio show talking about fertility, pregnancy and postpartum for thyroid patients!
(PRWEB) June 05, 2013
Fertility, Pregnancy and Postpartum Health for Thyroid Patients
June 5, 2013 1 p.m. EDT
On Your Health Radio - with Mary Shomon
In this episode of Your Health Workshop, special guest Dana Trentini, a thyroid patient advocate and founder of the Hypothyroid Mom website, will talk about the impact of thyroid disease on a woman's fertility, having a healthy pregnancy, and the postpartum period.
Dana will also share her own experience dealing with thyroid disease in pregnancy, and how that motivated her to become a patient advocate, and to create the Hypothyroid Mom site.
Dana was diagnosed with hypothyroidism after the birth of her son in 2006. She suffered a thyroid-induced miscarriage in early 2009, and went on to give birth to her second son in 2010. The day Dana lost her unborn baby unnecessarily to hypothyroidism, she set out on a quest to take her science and research background and dig through the research on hypothyroidism. She vowed that she would save the babies of hypothyroid moms and she is determined to fill that vow with her thyroid advocacy blog Hypothyroid Mom.
In addition to her advocacy work, Dana Trentini is an executive coach and trainer in New York City. She graduated with her Honors Bachelor of Science in Neuroscience and worked as a high school science teacher for several years. During her graduate studies at Columbia University she was a team leader of a prestigious academic research team.
The first caller to the show will receive a free copy of "Thyroid Hormone Breakthrough," Mary Shomon's book that has special chapters focusing on fertility, pregnancy, postpartum, and breastfeeding for thyroid patients.
Listen live 6/5 at 1 pm EDT at:
http://www.voiceamerica.com/channel/248/voiceamerica-health-and-wellness
Send questions in advance to yourhealthworkshop(at)gmail(dot)com
Or call in during the show, to 866-472-5792
About HypothyroidMom.com:
HypothyroidMom.com is for the millions of moms worldwide with hypothyroidism (and the millions more who don't even know they have it yet). Founder Dana Trentini lost her unborn baby to hypothyroidism and vowed to warn women everywhere about the dangers. After four years of intense research and a quest to find the top thyroid health experts, the time has come to share all that she has discovered.