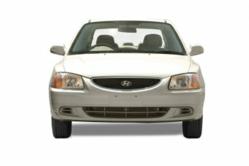 Launch of the Fourth Generation of the Accent--Report by Gaadi.com.
Delhi, Delhi (PRWEB) April 09, 2013
Hyundai is all set to launch the fourth generation Accent for car lovers in India. A researcher at Gaadi.com, India's leading online portal for posting the particulars about used and new cars, claims that the new car in the Indian car market will have additional features to meet specific requirements from buyers.
Gaadi.com insinuates that Hyundai will be introducing the new and revamped fourth generation of the Hyundai Accent in India, a luxury sedan for Indian roads. The best part is that it is backed by Hyundai's goodwill and impeccable after sales service.
The fourth generation Accent offers 6-speed manual/automatic transmission with options of 1.6 liter engine, which is the same as that of the fifth generation Elantra. The body style of the Accent is 4-door and has an engine option of 1.4 L & 1.6 L Gamma I4 petrol, 1.6 L Gamma II GDI I4 petrol and 1.4 L & 1.6 L CRDI I4 U-line diesel. The ex-showroom price of the Hyundai Accent in India is Rs. 5.18 Lac at lower end and Rs. 5.60 Lac at the higher end.
The fourth generation Accent is an excellently designed car that contains a chrome strip and a radiator grille. It has not undergone any significant change; its interiors and exteriors remain the same as in older models.
For car enthusiasts, Gaadi.com has unveiled a detailed page of the Hyundai Accent that provides complete specifications, features, expert and user reviews along with some amazing pictures of its variants. The web page also contains exhaustive reviews by imminent Indian journalists.
About The Company:
Gaadi.com is the leading online automotive marketplace bringing together car buyers and car sellers. New car buyers can research their car purchase while used car buyers can browse through the largest collection of inventory online. It is the best resource for new car research in India, providing users with information, opinions & tools to ease the process of finding a suitable car. Gaadi.com's used car marketplace is the best in online space with a comprehensively curated and photographed stock of used cars. It provides a transparent and reliable platform for used car listings with detailed information for used car buyers.
Visit http://www.gaadi.com/Hyundai-Accent to know more about the Hyundai Accent at Gaadi.com