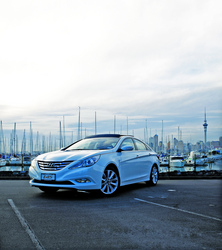 Hyundai has been successful in functional attributes such as quality and design, has a strong new vehicle line-up, and received substantial global exposure during the World Cup
(PRWEB) October 2, 2010
Further confirmation that Hyundai is the fastest-growing vehicle company in the world.
Hyundai has had a dramatic rise in the value of its brand, up 9.3 percent in the past year in an
independent global study.
No other vehicle brand can match that growth, according to Best Global Brands 2010, an annual ranking
by widely-respected US group Interbrand.
Of the top 100 brands of all kinds worldwide, Hyundai is now ranked 65th, up four places in a year. The average growth across the Top 100 was just 2.8 percent.
InterBrand rates Hyundai's brand value at US$5 billion, just behind Audi and ahead of Porsche.
"A deeper look into the change indicates that Hyundai has been successful in functional attributes such
as quality and design, has a strong new vehicle line-up, and received substantial global exposure during
the World Cup ….. Hyundai's strategies have paid off," Interbrand said.
Hyundai has now been included in the Best Global Brands for six consecutive years.
"New Zealand Hyundai owners can take pride and encouragement from these latest rankings,"
commented Tom Ruddenklau, Chief Operating Officer at Hyundai New Zealand.
"There is no one reason for Hyundai's continued rise, but rather an ongoing push for excellence in
everything it undertakes.
"In South Korea and worldwide the brand is totally committed to quality and design, as we see across its
strong new vehicle line-up.
"Here in New Zealand and around the world Hyundai received enormous exposure during the Football
World Cup and other events.
"The All Whites' success in particular was matched by Hyundai's comprehensive football promotional
programme around our nation.
"Both here and worldwide Hyundai continues to undertake innovative marketing programmes
enhancing brand power and reflecting our 'fluidic sculpture' concept of vehicle design," said Mr Ruddenklau.
###