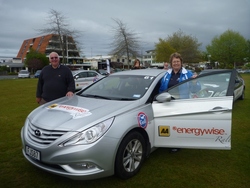 Looking at our results and how significantly we succeeded in increasing our fuel economy through being more aware of our driving style
(PRWEB) October 22, 2010
Drive sensibly and you can use 20 percent less fuel … and pocket the savings.
That's the upshot from Hyundai's bold approach to last week's AA Energywise Rally, which showed New Zealand could be $1.7 billion better off if we all played our part.
Pie in the sky? That's what the everyday Hyundai drivers thought before taking on the professionals over the tough four days driving from Auckland to Wellington and back.
Everyone knows the eco-nuts can save buckets of fuel, but what about the average driver?
The Hyundai driver and co-driver pairs all found a reduction in fuel consumption is not out of the question, even though conditions were atrocious on the grueling 1,770km rally route.
Almost all of them managed to improve on the fuel efficiency factory rating of their vehicles, some nearly hitting the 20% improvement mark, with only 4 days of eco-driving experience up their sleeve by the end of the Rally.
Beforehand, most were intimidated by the figures achieved by professional drivers, seeing those economy margins as out of reach.
"Driving with fuel economy as a priority wasn't something I'd thought about in the past; it was a totally new concept to me," commented Sian Protheroe, daily driver of a Hyundai and Hyundai pilot in the rally.
"Looking at our results and how significantly we succeeded in increasing our fuel economy through being more aware of our driving style, means that there will be a change in my focus for the future."
Figures from Gull and the Ministry of Economic Development show New Zealand uses approximately $8.5 billion worth of fuel a year in road transport – meaning the nation could save $1.7b every year.
"That's the challenge we throw down to New Zealand," said Tom Ruddenklau, Chief Operating Officer of Hyundai New Zealand. We chose to invite normal, everyday drivers to make up our rally team, just to see what is possible, and they surprised themselves.
"This is not with absurdly miserly driving tactics, it's just a matter of being sensible in the way we all go about our daily driving. And another positive spinoff: road safety also improves, at a time when the Police are promising another crackdown on speeding this holiday weekend.
"Hats off to the Hyundai rally team for showing the rest of New Zealand what is possible," said Mr Ruddenklau.
Results of the Hyundai team:
Vehicle: Hyundai i20
Drivers: Sian Protheroe & Ian Caddy
Result: 5.891L/KM
Factory Rating: 6.0L/100KM
% Improved on Target: 1.82%
Vehicle: Hyundai i30
Drivers: Val and Lee Richards
Result: 4.902L/100KM
Factory Rating: 4.7L/100KM
% Improved on Target: -4.30%
Vehicle: Hyundai i30
Drivers: Philip Eustace & Lily Clark
Result: 4.835L/100KM
Factory Rating: 4.7L/100KM
% Improved on Target: -2.87%
Vehicle: Hyundai i45
Drivers: Jeanette & Alistair Drysdale
Result: 7.195L/100KM
Factory Rating: 7.6L/100KM
% Improved on Target: 5.30%
Vehicle: Hyundai ix35
Drivers: Nick Botica & Paul Hurrell
Result: 6.359L/100KM
Factory Rating: 7.5L/100KM
% Improved on Target: 15.33%
Vehicle: Hyundai ix35
Drivers: Graham Sharp & Neil Gyde
Result: 6.124L/100KM
Factory Rating: 7.5L/100KM
% Improved on Target: 18.46%
Vehicle: Hyundai Santa Fe
Drivers: Kevin Connell & Bryce Wilson
Result: 6.380L/100KM
Factory Rating: 6.7L/100KM
% Improved on Target: 5.83%
Vehicle: Hyundai Santa Fe
Drivers: Eoin Young & Terry Marshall
Result: 6.309L/100KM
Factory Rating: 6.7L/100KM
% Improved on Target: 4.78%
Currently Hyundai is the number one selling diesel passenger vehicle manufacturer in New Zealand, holds 8.41% in passenger market share, and 6.89% total market share YTD 2010, was 5th in passenger sales and 6th in total sales in September 2010, is number two in SUV sales YTD September 2010 and has numerous new locations among its 22 dealerships. The brand has been imported into New Zealand for the past 28 years.
Established in 1967, Hyundai Motor Co. has grown into the Hyundai-Kia Automotive Group which was ranked as the world's fifth largest automaker in 2009 and includes over two dozen auto-related subsidiaries and affiliates.
Hyundai is a committed sponsor of sports and cultural organisations in New Zealand and worldwide. See
http://www.hyundai.co.nz/about-hyundai/sponsorship/
For further information about Hyundai vehicles in New Zealand, including high resolution images and an archive of press releases, log onto the dedicated Hyundai Media website at extranet.hyundai.co.nz/media
For the international media news room, where you can download press releases, high-resolution photos, as well as preview and request broadcast-standard video which will be delivered digitally or by tape, visit
http://www.thenewsmarket.com/Hyundai . Registration and video is free to accredited media.
Tom Ruddenklau
Chief Operating Officer
Hyundai Motors New Zealand
Ph: +64 272 247 866
Email: truddenklau(at)hyundai(dot)co(dot)nz
###