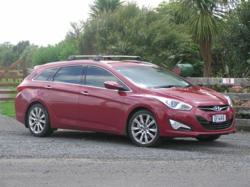 The stunning new i40 Wagon reflects the spirit of change at Hyundai.
(PRWEB) April 04, 2012
Going head-to-head against well established rivals such as the Ford Mondeo Wagon, the Volvo V50 and the Skoda Octavia Estate, the Hyundai i40 Wagon received the overall title of Best Wagon in the Business Car Manager's annual awards in the UK.
Tony Whitehorn, President and CEO Hyundai Motor UK, said: "To take the Best Station Wagon award is a huge honour for us and it bears testimony to just how well the i40 performs. The lowest BiK tax rates coupled with ultra-efficient engines, premium levels of equipment and space and practicality make the i40 the ideal business wagon."
Ralph Morton, Editor of Business Car Manager, said: "We've brought together the very best and while they straddle a mix of classes and sectors, they're united by one attribute - they're all great additions to your business. Hyundai's continued growth in the UK has seen it launch several new top-quality vehicles for business users. The i40 is one such vehicle that fully deserves this award as it provides a compelling alternative to the established rivals."
The Business Car Manager Best Estate Award is the third major honour that the Hyundai i40 Wagon has won since its launch in the UK in September last year. It has already won the Best Estate Car title at the 2011 Scottish Car of the Year Awards along with the Golden Award at the 2011 Euro CarBody Conference.
The i40 Wagon was released in New Zealand January 2012, with the option of both 1.7 litre UII High powered diesel engine or a 2.0 litre GDi petrol engine variant as an additional offering.
"The stunning new i40 Wagon reflects the spirit of change at Hyundai, and for Hyundai New Zealand as well. Sales of the i40 Wagon here in New Zealand since its launch has been positive, and many of our customers refer to why this vehicle handles well, and how it is designed for our kiwi roads," said General Manager of Hyundai New Zealand, Andy Sinclair.
"The i40 is a perfect example of how we are offering the best and making it accessible to everyone."