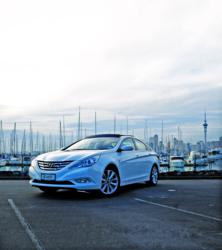 This is great international endorsement for the Hyundai i45, and comes just weeks after Hyundai took first place in New Zealand for passenger vehicle sales for the month of June
(PRWEB) July 21, 2011
The Hyundai i45, known as the Sonata in the U.S., has been named Best-in-Segment (tied with the Volkswagen Jetta), in the mid size car category of Strategic Vision's 2011 Total Quality Index® (TQI). The Index measures the quality of the vehicle as well as the emotional connection it makes with buyers.
"This is great international endorsement for the Hyundai i45, and comes just weeks after Hyundai took first place in New Zealand for passenger vehicle sales for the month of June. The i45 was an important contributor to the local result and the Index rating has highlighted that it ticks both the emotional and rational boxes in terms of customer satisfaction," said Chief Operating Officer for Hyundai New Zealand, Tom Ruddenklau.
Alexander Edwards, President of Strategic Vision, said that customers that took part in the Index explicitly stated that they love their Hyundai i45; from the performance-styled exterior to the comfortable, thoughtfully designed exterior.
The other brands evaluated for the mid-size category included the Honda Accord, Mazda6, Nissan Altima, and Toyota Camry. The strong showing in the TQI extends Hyundai i45's winning streak in Strategic Vision studies. Hyundai's i45 also topped this year's Strategic Vision Total Value Index, tallying the highest Total Value score in the 14-year history of the study. This result surpassed all competitors past and present, including those in the luxury segments.
The Total Quality Index® asked US buyers to rate all aspects of the ownership experience - from buying and owning to performance and driving. Results were calculated from 37,069 buyers who bought 2011 models between the months of September to December of 2010. Strategic Vision has presented the Total Quality Index® annually since 1995.
###