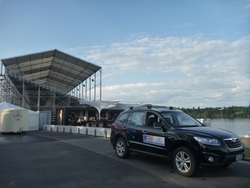 When it matters to New Zealand, Hyundai is there in support
(PRWEB) November 3, 2010
The world comes to New Zealand this week and Hyundai is right there as the World Rowing Champs make landfall at Lake Karapiro in the Waikato.
Hyundai New Zealand is a National Supporting Partner of the championships and organising officials have chosen to drive Hyundai vehicles during the massive build up to the event.
A total of 12 Santa Fe SUVs, three i30 hatchbacks and five iMax vans, adorned with World Rowing Championships livery, have provided comfortable, economical and safe transport.
The Hyundai hospitality site gives Kiwis another great reason to head down to the event, including the opportunity to enter competitions for a luxury New Zealand weekend escape.
"When it matters to New Zealand, Hyundai is there in support," explained the Chief Operating Officer of Hyundai New Zealand, Tom Ruddenklau.
Hyundai will be seen on the water, too. Current world champion lightweight men scullers Storm Uru and Peter Taylor carry Hyundai colours as sponsored athletes.
Both are graduates of Pinnacle, the mentor organisation, backed by Hyundai, which provides young athletes with a range of professional and personal skills to help them reach world-best status.
Uru and Taylor are to defend their world title against strong challenges from Britain and elsewhere. Winning their postponed heat early this week, they will need to keep up the good performance in their semi-final on Wednesday and final on Friday.
"As a 100 percent Kiwi-owned and operated company we take immense pride in being able to support the people and organisations that make our country such a great place to live.
"As events go, they don't get much bigger than the World Rowing Champs and we are delighted to assist in an anchor role.
"We look forward to greeting thousands of international visitors – and to cheering New Zealand success on the water!"
# # #