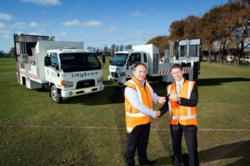 We now have eight new Hyundai trucks, ideal for our traffic management requirements or as maintenance trucks.
Auckland, New Zealand (PRWEB) June 25, 2012
City Care has taken delivery of the 49th and 50th Hyundai truck registered in New Zealand. This signals a rapid rise for Hyundai light trucks in New Zealand since the very first delivery back in 2009.
There were two Hyundai trucks registered that year, five in 2010, 23 in 2011 and 21 up until the end of May this year. A further 16 light trucks are currently in build, both here in New Zealand and in Korea, and will be on the road soon.
"City Care has a strong association with the Commercial Vehicle Centre (CVC), the Hyundai dealership in Christchurch. City Care is proud of this association and our purchasing has reflected this," said Onno Mulder, Chief Executive of City Care.
"We now have eight new Hyundai trucks, ideal for our traffic management requirements or as maintenance trucks. They are lightweight, competitively priced and reliable. Hyundai vans, SUVs and station wagons are also represented in our passenger fleet."
Since 1988, HMC Korea has been producing LHD Commercial Vehicles with the first RHD model becoming available in 2009. There are three main variants currently available: The HD45 (4,500kg GVW), the HD65 (6,500kg GVW) and the HD75 (7,500kg GVW).
Each of these variants is available in a selection of wheelbases and with either the standard day or the Super cab, which has an additional 300mm of space behind the driver's seat for additional storage. The 7-man crew cab is now also available on the HD65 and HD75.
Of the 51 units currently working on New Zealand roads, over half are HD75s. Along with the box bodies, curtainsiders and flat decks you can expect to see Eutectic freezer units, refrigerated bodies, gas bottle cages, skip trucks and, of course, traffic management units with City Care.
"City Care is experiencing huge growth and our fleet purchases need to cater to this demand. Hyundai is certainly fulfilling this requirement," added Mulder. "We are very pleased to be working with Hyundai and CVC and look forward to a long association with both organisations.
Like all Hyundai products, the trucks are designed with the comfort and safety of passengers and other road users in mind. The driver's area is ergonomically designed for ease of use with a wrap-around dash, suspension driver's seat and solar side windows for additional comfort. The cabin is a fully-tested steel safety cab and all vehicles have ABS and EBD for added safety.