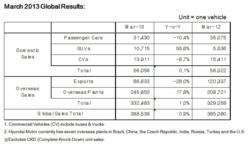 (PRWEB) April 08, 2013
In terms of total market passenger car sales, which saw a total segment decrease of -4.8% for the month year-on-year, Hyundai defied the industry trend, finishing in second position with 6,000 vehicles sold, and a 12.3% market share.
The stand out models for passenger car sales include the ix35 which continues to be the top selling small SUV in Australia YTD and the new-generation i30 which finished March as the third highest selling vehicle in the country.
"This is a year of consolidation for the Hyundai brand in Australia, having had a busy model launch schedule in 2012. These results are a strong indication that our model range strategy is right on track, as we continue to offer Australian consumers a winning combination of design, technology, efficiency, and affordability," said Damien Meredith, Director of Sales Hyundai Motor Company Australia. "This is an outstanding result to close the first quarter of 2013."
March saw the Hyundai range achieve a strong result across the board, with six models securing top three placings in their respective segments - ix35, iLoad, and iMax finished second, while Veloster, i30 and i20 ranked third.
Hyundai Motor Company Australia March highlights:

Light Cars <$25k: Hyundai ranked first with combined sales of Accent (743 units) and i20 (1,183 units) totalling 1,926 vehicles sold, and a segment share of 16.1%
Small Cars <$40k : Hyundai ranked third with combined sales of i30 (2,595 units) and Elantra (874 units) totalling 3,469 vehicles sold, and a segment share of 15.9%
Veloster ranked third in the Sports <$80k segment posting 340 sales and a segment share of 15.9%
ix35 ranked second in the SUV Small <$40k segment achieving 1,529 sales and a segment share of 21.7%
iMax ranked second in the People Mover <$55k segment posting 100 sales and a segment share of 15.9%
iLoad ranked second in the Van/CC 2.5-3.5t segment achieving 399 units and a segment share of 28.3%
Overseas Hyundai Motor America sold 68,306 units in March, an increase of +30% over the previous month, helping to achieve an all-time record first quarter result of 164,330 units - the best in HMA's history.
Globally, Hyundai Motor Company sold 388,539 units in March, an increase of +0.9% over the same period in 2012.