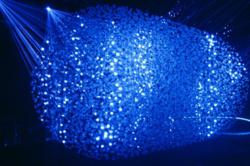 (PRWEB) April 11, 2013
The company's participation in Europe's foremost design event is set to propel the brand to new heights not only in the world's automotive industry, but in the world of design.
"Fluidic Sculpture in Motion" is a unique installation that creates dynamic virtual sculptures using lights, conveying the essence of fluidic sculpture, the inspirational role played by nature and the ability to continuously adapt to the changing environment. Created by Hyundai Design Centre, the light sculpture introduces Hyundai's aesthetic language to audiences in the form of interactive performance art.
"Through our participation in Milan Design Week, we hope to share the concept behind fluidic sculpture with our customers in an innovative form. In the future, we will continue to seek unique ways of introduce Hyundai's signature design DNA to a wider audience," said Suk-Geun Oh, Executive Vice President of Hyundai Motor Company and head of Design Centre.
Accompanied by a special mix of performance art, music and dance created by the famous German choreographer Nikeata Thompson, the light sculpture was unveiled in the Art Point Room at the Temporary Museum for New Design in Milan. During Design Week, Jan Jelinek of SCAPE, one of the key figures of contemporary electronic music, is set to offer the general public the chance to experience rhythmic engagement and immersion through his unique soundscape.
To see video of the "Fluidic Sculpture in Motion" performance art, or for further information on the installation, visit: Hyundai | Milan Design Week 2013
'Fluidic Sculpture in Motion'
Occupying 1,000 square metres, the installation is made up of 12,000 translucent spheres, acting collectively as a screen, surrounded by eight high-powered lasers and suspended over a pool of water.
"Fluidic Sculpture in Motion" is performance art created by lights, lasers and interactive media, inspired by the formation and transformation of the natural world, creating shapes and three-dimensional images of great visual impact. The performance, which repeats itself every seven minutes, begins with virtual rain recreated by laser light, followed by an interactive phase, in which human presence allows the creation of striking three-dimensional images. The interactive transformations are made possible by a special 3D scanning system that registers body warmth, allowing visitors to explore and manipulate the installation by using their gestures to create curves and shapes.
The interaction is also a tool to deliver sensory experience of Hyundai's design philosophy, while embodying the fluidity of the times we are living in as well as our need for harmony, flexibility and adaptability.
Fluidic sculpture, Hyundai's design philosophy
The Fluidic sculpture design identity has played a key role in establishing Hyundai's reputation as a manufacturer of cars that feature great design. This innovative and distinctive design DNA inspired by nature gives Hyundai cars a strong personality. It implies a sculptural form that is both flexible and smooth, a flowing tension with a sleek profile and dynamic emotion.
Hyundai designers pay tribute to the aesthetics of nature's free-flowing beauty to build cars that are more than just products, with refinement and values of an artist creating a work of art.
Milan Design Week
Launched in 1961, Milan Design Week is held every year in April, featuring the latest in furniture and design from countries all over the world. It is considered the largest event of its kind with as many as 13,000 of the world's leading furniture designers showcasing their latest designs in a single event.