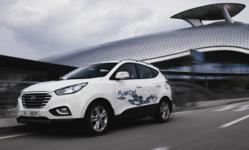 (PRWEB) April 29, 2013
The LHP has initiated over £50 million worth of hydrogen projects, attracting and rolling-out new hydrogen buses, taxis, scooters, refuelling stations, materials handling vehicles and fuel cell Combined Heat and Power units to London. Hyundai Motor Company will provide its expertise in fuel cell electric vehicles to LHP, helping to drive development of the infrastructure needed to realise a hydrogen economy.
Deputy Mayor and Chair of the London Hydrogen Partnership, Kit Malthouse, said: ''Hyundai and members of the London Hydrogen Partnership will develop a plan for fuel cell vehicles, and will plan the hydrogen refuelling station rollout across London. Hyundai will provide invaluable insights and bring global experience to the Mayor's innovative 'smart' low carbon, low emission transport activities. This partnership will help to continue placing London's economy at the forefront of science and innovation''
Tony Whitehorn, President & CEO of Hyundai Motor UK, commented: "Hyundai is proud to be joining the London Hydrogen Partnership, helping to create a future for the capital that's cleaner and more sustainable. Hydrogen delivers considerable environmental benefits and we are looking forward to working closely with the other partners of the LHP to drive forward its widespread introduction.
"As the first and currently only manufacturer in the world to series-produce a hydrogen fuel cell vehicle we believe we will play an invaluable role in demonstrating the benefits of this technology. The availability of the innovative Hyundai ix35 Fuel Cell shows that hydrogen is a practical source of clean and sustainable energy. The fact that this pioneering vehicle is being leased to public and private fleets today will help LHP create investment and employment opportunities as hydrogen infrastructure is developed."
Earlier this year, Hyundai became the world's first vehicle manufacturer to begin assembly-line production of the zero-emission, hydrogen-powered Hyundai ix35 Fuel Cell. As well as being delivered to public and private fleets around the world, the car is being used by the European Commission-backed Fuel Cells and Hydrogen Joint Undertaking (FCH JU) to demonstrate the real-world benefits of hydrogen fuel cell technology to members of the European Parliament, European Commission officials and other policymakers.
Hyundai Motor Company has become a world-leader in the development of hydrogen fuel cell technology since the introduction of the Santa Fe FCEV in 2000 and operates a dedicated fuel cell research division at its Eco Technology Research Institute in Korea.
Hyundai plans to build 1,000 examples of the ix35 Fuel Cell by 2015 for lease to public and private fleets, primarily in Europe, where the European Commission has established a road map for construction of a pan-European hydrogen fuelling station network. Leading automakers, including Hyundai, have declared support for more refuelling stations to prepare the market for mass production of hydrogen fuel cell vehicles.
Using Hyundai's proprietary technology, the ix35 Fuel Cell's fuel cell stack converts hydrogen into electricity, which turns the vehicle's motor. The only emission generated is water.
The ix35 Fuel Cell can be refuelled with hydrogen in only a few minutes. It accelerates from 0 to 100km/h in 12.5 seconds, has a top speed of 160km/h and can travel 594km on a single tank.
The ix35 Fuel Cell is the result of 14 years and several hundred million dollars of research by hundreds of engineers at Hyundai Eco Technology Research Institute in Mabuk, Korea. The car has logged more than three million kilometres of road tests in real-world conditions in Europe, Korea and the U.S.