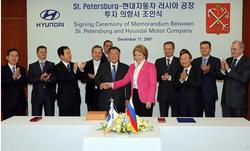 Though we´ve performed well so far, our future prospects for growth in the Russian market depend on getting closer to our customers. This plant will allow us to better serve our customers and will ensure our success in one of the world´s most dynamic and fastest-growing economies
Seoul, Korea (PRWEB) December 27, 2007
Hyundai Motor Co. has selected Saint Petersburg as the site of its first manufacturing operation in Russia. Hyundai will begin construction work on the new plant by June next year and plans to invest $400 million in the manufacturing operation, according to a memorandum of intentions signed today by Hyundai Vice Chairman and CEO Kim Dong-Jin and Saint Petersburg Governor Valentina Matvienko at Hyundai's head office in Seoul.
"Though we´ve performed well so far, our future prospects for growth in the Russian market depend on getting closer to our customers. This plant will allow us to better serve our customers and will ensure our success in one of the world´s most dynamic and fastest-growing economies," said Chairman Chung Mong-Koo.
Hyundai today is the third leading imported car brand in Russia with Jan-Nov sales of 130,166 units, up 146.4 percent over the same period last year. In 2006, Hyundai was the number two imported car brand with sales of 100,685 units.
Contact information
Esther Park
HMC Public Relations 1
Office: +82-2-3464-2117
Fax: +82-2-3464-3457
E-Mail: esther_kr@hyundai-motor.com
###