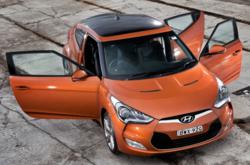 (PRWEB) May 20, 2013
Instantly recognisable by its flowing lines and eye-catching embellishments, it's not surprising that Veloster will be the star of the Hyundai stand - its avant-garde take on style and glamour embodies the brand's signature design language, 'Fluidic Sculpture'.
Veloster operates from a platform of innovation, modern elegance and experimental design – much like the leading fashion houses attending this weekend's extravaganza including Carl Kapp, Ginger & Smart, Rachel Gilbert, Camilla and marc, Wayne Cooper and Jetts, to name but a few.
Fashion Weekend is a paradise for fashionistas and will host leading designer brands in daily catwalk parade spectaculars, sales with designers offering current and past season collections at exclusive discounts, beauty and makeup features and demonstrations, and a chic wine bar and café for when too much shopping really is enough!
As a time out from the fashion frenzy, the Hyundai exhibit is offering guests a chance to win some great prizes in the 'Boot Shoot' competition. Simply LIKE the Hyundai Facebook page then try your aim by landing as many shoes as you can through the target into the boot of the Veloster in 20 seconds. Prizes include:

Personal Styling Session & $500 gift voucher from this season's hottest label 'AJE'
One-on-One training session with professional athlete and World Champion boxer Lauryn Eagle, including a signed pair of boxing gloves
Music pack valued at $500 from Mushroom Group
Greenfleet Ecofriendly car detailing, valued at $300
Tickets to West Tigers NRL home matches
Westfield Shopping Centre voucher valued at $100 PLUS one hour styling session with Laura Dundovic
Fashion Weekend Sydney is Australia's largest and most prestigious designer shopping and catwalk event. The event runs from 17th to 19th May 2013 at the Royal Hall of Industries, Moore Park.
For information about Hyundai Veloster visit: http://www.hyundai.com.au
For information about Fashion Weekend Sydney visit: http://www.fashionweekend.com.au