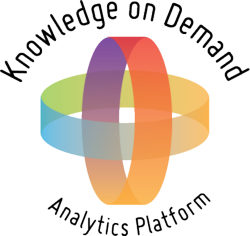 Healthcare providers need smart, fast, intuitive tools that help them manage, analyze and understand their data to improve performance and facilitate positive change. President and CEO Janice Nicholson
Santa Rosa, CA (PRWEB) October 24, 2012
Healthcare providers and networks today face mounting pressures to improve care, deliver better outcomes and reduce costs. While healthcare organizations that have adopted EHRs have more data, they still have no greater insight into the health of their patient populations. i2i Systems' new white paper, "Maximizing Business and Population Health Intelligence," explains how a new global business and population health intelligence tool, based on a "light" approach to data management that leverages the latest cloud technologies, ensures that providers attain actionable insights, optimize clinical outcomes, improve network efficiency, while reducing costs.
Click here to download a complimentary copy.
A pioneer and leading provider of Population Health Management solutions, i2i Systems' Maximizing Business and Population Health Intelligence addresses key questions facing healthcare administrators today:

How to measure and evaluate their clinical, operational and financial performance at the network level?
How to determine who their best performers are, at the facility and individual provider level, so as to spread best evidence-based practices across the network and reduce the variability of care?
How to make strategic decisions about programs, processes and staffing to allocate resources wisely?
How to reduce costs overall across the continuum of patient care?
Key topics covered include:
TAMING BIG DATA DEMANDS: Why the sheer number of measures and reports compel healthcare networks to have an efficient and accurate way to show consumers, government and payers that they are measurably the best at what they do.
CREATING ACTIONABLE INTELLIGENCE: The key to managing data to drive positive change lies in harnessing the power of true analytic tools – in knowing the health of the patient population and the quality of care being administered.
"KNOWLEDGE ON DEMAND" PLATFORM: i2i Systems recognizes that it takes a tightly integrated package of software, services and a learning community to provide clients with overwhelming value, and to help them understand and use analytics to fully leverage data and optimize performance and profitability.
"Maximizing Business and Population Health Intelligence addresses the challenges and opportunities in healthcare today," explains i2i Systems CEO Janice Nicholson. "Healthcare providers need smart, fast, intuitive tools that help them manage, analyze and understand their data to improve performance and facilitate positive change. They need intelligence about the health of the population they care for and knowledge to ensure the sustainability and longevity of their organization."
About i2i Systems
Founded in 2000, i2i Systems is a pioneer and leading provider of Population Health Management solutions and services. We are focused exclusively on creating healthier populations by partnering with – and empowering – healthcare organizations in their journey to deliver the highest quality care. We deliver business and population health intelligence through smart technology that supports easier and greater access to data and improves the efficiency of the care team staff. Success, we believe, occurs when smart tools enable dedicated providers to practice at their best. For more information visit us at http://www.i2isys.com.
About Janice Nicholson
Janice Nicholson is CEO and co-Founder of i2i Systems. Ms. Nicholson is a thought leader and prominent speaker on population health management. Notably, she testified at the June 7, ONC Clinical Quality Hearing, where the HIT Policy and Standards Committee and the Quality Measures and Clinical Quality Workgroups were present, in Washington, DC. Ms. Nicholson addressed the primary factors hampering Health IT's ability to support quality measurement and quality improvement. Click here for more information on Janice Nicholson's presentation." Ms. Nicholson is available for speaking engagements and interviews. Please contact i2i Systems Director of Marketing, Randy Marc Lasnick, randyl(at)i2isys(dot)com.