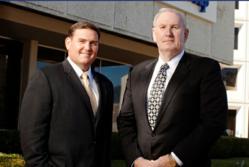 The new websites are instrumental in expanding Rogers Wealth Group's online presence and increasing clients within each of its primary service categories
Southlake, TX (PRWEB) October 01, 2012
Rogers Wealth Group in Fort Worth, Texas, has a multi-faceted story to tell about its collaborative wealth management services. This is why the company decided to partner with i5 web works, an award-winning Internet marketing company in Dallas Fort Worth, to develop four individual websites to market its wealth management services online. i5 web works will also manage ongoing search engine optimization (SEO), site management, and hosting services.
According to Michael Burns, co-founder and partner of i5 web works, it made sense for SEO marketing to design four separate websites instead of combining all the information into one.
"Rogers Wealth Group wants to aggressively market its services online and most importantly, rank high in search results. With four websites, each containing distinct content and different keywords, we can deliver better results and more website traffic," explains Burns, noting the company is certified and trained in SEO and pay-per-click services. "A company can have a beautiful web site, but if prospective clients are not finding it when they search for your products and services, then it is not an effective website. We help businesses Be Found!"
The four new websites feature a similar custom design for branding purposes, along with sophisticated architecture and interactive features:

"The new websites are instrumental in expanding Rogers Wealth Group's online presence and increasing clients within each of its primary service categories. Although the new websites will be optimized individually, they each contribute to the overall goal," states Carita Weaver, co-founder and partner of i5 web works, noting they have used the same strategy to help businesses reach new geographic areas.
i5 web works has a proven track record of working with companies for local, regional and national Internet marketing campaigns since 2002, including SEO, pay-per-click (PPC) advertising, and social media.
For more information about i5 web works' Internet marketing solutions in Dallas-Fort Worth, go to http://www.i5ww.com or call 888-893-7519.
About i5 web works
i5 web works provides search engine optimization, Internet marketing, social media, domain registration, and comprehensive site management programs that include website design, maintenance and hosting. The company serves clients in a broad range of industries from its headquarters in the Dallas Fort Worth area. i5 web works understands the application of Internet marketing services, pay per click advertising, search engine optimization, and social media for both business-to-business and business-to-consumer purposes. Creating an Internet presence requires an in-depth understanding of natural search engine optimization techniques and supporting Internet marketing programs. Celebrating its 10th anniversary in 2011, i5 web works has the experience and ability to execute these programs. Co-owners Michael Burns and Carita Weaver take their tagline to heart: "Be Found!"