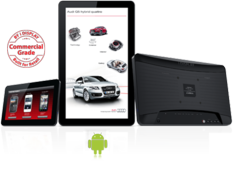 The use of retail designated Tablets will have a strong influence on consumer behavior within the retail area. With the Retail Tablets the days of "one way" advertising messages are over; it's all about "two way" communication.
London, UK (PRWEB) January 31, 2012
i Display, an innovative interactive digital display company, announced today, during the ISE show (Hall 10 stand N148), the launch of a series of new Android based Retail Tablets in various sizes, specifically built for retail.
The new i Display Retail Tablets series include five different screen sizes: Small (7''), Medium (10''), Large (15.6''), XL (18.5'') and XXL (21.5''). i Display is the first and only company to offer such large sized Retail Tablets (L, XL and XXL) that enable brands and retailers the ability to transform the customer retail experience. This is a major leap forward in customer interactivity in the retail environment. These large screen tablets allow consumers to interact in store as easily as they would with their own smart phones or consumer tablets.
i Display Retail Tablets are built for retail. With commercial grade hardware, ruggedized form factor and a high quality touch screen integrated with tempered glass, the Retail Tablet ensures retailers durability and effectiveness. The i Display Retail Tablets collection is an ideal solution for retailers and brands who seek two way communication and a high level interactive experience with their target customers.
The i Display Retail Tablet's hardware and software have been designed for commercial use and include important features such as content auto-play, auto-copy, auto detect and password protection functionalities. A VESA mounting system on the back of the device enables various mounting solutions to fit perfectly in any retail environment. Additionally, the Android OS and embedded Wi-Fi and 3G functionality allow for easy integration to a web based remote content management systems. Scala is the first company to be compatible with the i Display Retail Tablets with their SignChannel service, which is being demoed in the Scala Booth at ISE (Hall 10 stand K122). Many other features make the i Display Retail Tablet solution a truly retail minded device; for example, setting buttons and sockets are placed at the back of the device to prevent customers from touching them and changing the preferred settings. In addition, the Retail Tablets can easily connect to external hardware such as a printer (to print coupons) and bar code reader, which will help increase sales and improve ROI.
Powered by the Android operating system the i Display Retail Tablets offer retailers the ability to utilize a wide variety of retail applications to promote products, run campaigns, entertain customers and communicate with them in-store. Retailers can download applications from the Android Market or develop their own applications. With access to a wide range of retail applications, customer entertaining games, product information and pricing applications, interactive feedback forms, club membership registration applications and web browser for internet surfing, the Retail Tablets give consumers a new way to engage with brands while providing them a hands free tablet experience.
"No one could have anticipated the huge impact tablets would have had on the consumer market and on consumer behavior. Various applications were and are being developed and have changed the way consumers think, behave and consume content," says Ariel Haroush, i Display's CEO. "i Display projections indicate that a similar trend will take over the commercial tablet market. The use of retail designated Tablets will have a strong influence on consumer behavior within the retail area and will dramatically improve the in-store purchase experience. The openness of the Android operating system and development of numerous tablet applications open a world of new and exciting opportunities for brands and retailers to interact with their customers. No more "one way" simple advertising message; it's all about "two way" communication. Brands and retailers want to know what consumers like or dislike, what interests them at the POS and how to get in touch with consumers after they already left the Point of sale."
Additionally, the Retail Tablets come with a variety of fixtures, which are designed especially to answer the retail fixture challenges such as floor displays, shelf fixtures, counter display, wall mount etc.
Watch the Retail Tablets Video
i Display Retail Tablets' main features include:

Capacitive touch screen (7'' & 10'')
High quality touch screen with tempered glass(15.6'', 18.5'' & 21.5'')
Android 2.3 Open Operating System, with access to thousands of applications
Wi-Fi and 3G enabled
Internal browser
Web based, easy to use, remote content management system: SignChannel by SCALA
Energy saving standby mode (7'' & 10'')
Rotating screen providing both landscape and portrait views
Content automatically adjusts to the viewing angel
Auto copy of content
Auto play functionality
Auto detect
Variety of fixtures including floor display, counter display, wall mount and shelf fixture
About i DISPLAY
i Display is part of the Outform Group. Based in London UK, i Display is one of the market leaders for interactive and effective digital signage displays. i Display combines beautiful design with great functionality to effectively get your customer's attention and increase sales.
i Display is committed to delivering high-end, simple to use products which operate and blend in naturally with retail environments. The range of products can be viewed by visiting http://www.i-display.com
Press and Media Contact:
Email: PR(at)i-display(dot)com Phone: +44(0)845 4606 111.
i DISPLAY, its logo, and product names are registered trademarks of the Outform group of companies.
###