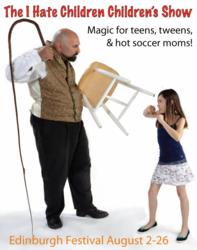 I predict disappointment and sadness for everyone concerned
Edinburgh, Scotland (PRWEB) April 16, 2013
Slip some whiskey in your sippy cup and hide the kids because the meanest magic man in the whole wide world is back for another year of child kicking fun at this year's Edinburgh Festival.
Edinburgh Festival Fringe "Best Children's Show" is back for more child hating fun. Last year The I Hate Children Children's Show broke records and made just about every top ten list at the festival. According to the List I Hate Children was Edinburgh's number one Magic show, the number one children's show and the number two show at the entire festival. No other children's show has garnered this level of critical and commercial success but being number one has its own perils.
"When we started there was nothing to risk," says show star Paul Nathan. "When you are perceived as the best at something expectations rise. That's a problem for us as we are all about lowering expectations. I'm like the Mitt Romney of show-business." When asked how he thinks this will affect this year's show Co-star, John Anaya had no illusions. "I predict disappointment and sadness for everyone concerned". That dire prediction for the 2013 Fringe was in contrast to the realities of last year's show were The I Hate Children Children's Show sold out every day breaking a number of ticket sales records including more advance sales than any show previously.
In an effort to accommodate guests this year the show is moving to a larger theater at The Pleasance. The show has grown every year since they first played Edinburgh four years ago when two fathers got into a fistfight at the ticket counter over the last few tickets. While many theater companies struggle to get any audience I Hate Children continues to sell out bigger and bigger rooms. Producers of the show have announced that this is the final move for the show, claiming they cannot move to a bigger house without compromising the integrity of the show. The producers have been cautious about growth citing concerns that they lose their intimacy or that they have to limit the number of children who get to perform with the show. "We don't want the kids to feel like they are competing with each other to be on stage, then the whole show turns into an ugly game of pre-school Darwinism."
One of the show's most endearing elements is that every child gets to join the stars on stage and perform magic. Not only is this an amazing experience for the child stars but also it's a great marketing ploy for the producers, driving traffic to the website and social media sites and ensuring advocacy by each of the hundreds of stars in the show.
Whatever happens this year one thing is certain; The I Hate Children Children's Show has become a family favorite at the Edinburgh Festival Fringe.