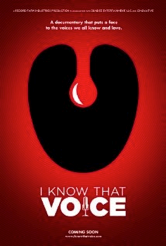 This documentary opens the doors into the lives of some of the greatest unsung heroes behind these animations that people of all ages have come to love.
Los Angeles, CA (PRWEB) May 07, 2013
"I Know That Voice," a documentary that reveals an exclusive look into the mysterious lives and humor of the actors behind the cartoon voices beloved by millions, is set to release Fall 2013. Rumors of this film on social media have erupted in pent-up demands for its release. With its YouTube trailer garnering nearly 700,000 views in less than three weeks, buzz has ignited in Hollywood and around the world from fans of all animated series, films and video games.
Emmy-nominated executive producer John Di Maggio, is the voice of "Bender" in Futurama, "Jake the Dog" in Adventure Time, "Rico" in The Penguins of Madagascar and "Fung" in Kung Fu Panda: Legends of Awesomeness.
The extensive all-star cast also features Matt Groening (The Simpsons), Tom Kenny (SpongeBob SquarePants), Seth Green (Robot Chicken, Family Guy), Billy West (Futurama, The Ren & Stimpy Show), Tara Strong (The Powerpuff Girls, My Little Pony), Jim Cummings (Winnie the Pooh), and more than 100 other talented voiceover actors from cartoons across the ages.
Record Farm Industries in association with Dundee Entertainment, LLC., and Cinovative, "I Know That Voice," has reached its final stages of post-production.
"Fans keep asking about a release date on our Facebook page," said producer Tommy Reid. "This is a vast subject and we want to get it right and pay an unforgettable tribute to the best voiceover artists of all time."
To satisfy hungry fans' appetites, every 100th person to join the VIP List on its website will receive a free poster signed by John Di Maggio. All fans who sign up will obtain exclusive information about the documentary and can pre-order the DVD.
"There is a fascination with hearing your favorite cartoon's voice coming out of a live human," Di Maggio said. "This documentary opens the doors into the lives of some of the greatest unsung heroes behind these animations that people of all ages have come to love."
"I Know That Voice" depicts the rise of the voiceover industry and exposes the intriguing, unrecognized world of the actors behind cartoon voices. From the brilliant actors to those in the "animation cells," this documentary aims to draw back the curtain and give fans a birds-eye-view into this unseen art form.
Director Lawrence Shapiro said the idea for the film came from his experience with Di Maggio at an Amsterdam music festival in 2008.
"Fans from all over the world were mesmerized by John," Shapiro said. "People showed such admiration for his ability to portray these voices that have a home in their hearts. At that moment I knew we needed to make a documentary about voiceover; one of the few fields almost everyone is a fan of, yet don't even know who these people are or what they really do."
Creators of "I Know That Voice" wanted to produce a documentary that was positive, humorous and entertaining.
"We are living in trying times, and as a result, there have been so many documentaries showing the dark side of the human condition," Shapiro said. "Humor and beauty can be equally provocative as well as healing and refreshing."
Walt Disney's cartoon voice of Mickey Mouse in Steamboat Willie in 1928 set the stage for voice-over acting. Mel Blanc, "The Man of 1,000 Voices" was the first prominent voice-over actor for Warner Bros.
"I think this will be one of the most entertaining and educational documentaries ever made," Reid added. "Whether you watched cartoons as a kid, as a parent, or are avid comic book fans or fans of animated series of today, like The Simpsons, this documentary is going to be addictive—you won't be able to get enough of it."
For exclusive photos, videos and news on "I Know That Voice," visit http://www.iknowthatvoice.com and http://www.facebook.com/iknowthatvoice. Follow the documentary on Instragram @iknowthatvoicemovie and #iknowthatvoice. Watch the trailer on YouTube at http://www.youtube.com/watch?v=xivQ6_gu3W8 and http://www.youtube.com/watch?v=yiSPvsTP02A.The full cast list can be found on IMDb: http://www.imdb.com/title/tt2113683/.
About the "I Know That Voice" Team
John Di Maggio, Tommy Reid and Lawrence Shapiro's combined chemistry and strengths came together to form the groundbreaking "I Know That Voice" documentary. Stated by Tommy as "a true labor of love," the film took two years to make, collected extensive interviews and compiled never-before-seen footage making "I Know That Voice" truly one-of-a-kind of its subject matter. Emmy-nominated and Annie award winner John Di Maggio is known for his iconic role as "Bender" in Futurama and "Jake the Dog" in Adventure Time, as well as his roles in The Penguins of Madagascar, Gears of War, Kim Possible and more. Tommy Reid is a renowned producer of films including Kill The Irishman, Americans, Superthief: Inside America's Biggest Bank Score, Danny Greene: The Rise & Fall of the Irishman and Strike. "I Know That Voice" Director Lawrence Shapiro directed films including Jam in the Dam, Los Lobos, Kiko Live, The Marshall Tucker Band: Carolina Dreams Tour and Blue Cheer: Rocks Europe.