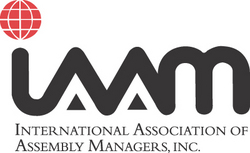 Seattle, WA (Vocus) March 29, 2010
Sustainability was the theme for IAAM's Performing Arts Managers Conference, held at the Seattle Grand Hyatt, March 5 – 9, 2010. Not only did outstanding professional sessions deal with environmental issues, but focus was also given to sustaining performing arts in the 21st century and how various technologies enable performing arts venue managers to reach out to their patrons in new and innovative ways.
The Conference started with an interactive "Boot Camp" session that allowed participants to become familiar with "Advantages and Challenges of Advancing Front-of-House Technology." This hands-on workshop, presented by Tessitura Networks, gave attendees the opportunity to discover how advancing technologies impact performing arts centers and enhance the total patron experience. Participants were also given the opportunity to learn about aerial performance technology in another interactive session where several actually took off from the stage floor like Mary Poppins or Peter Pan. This session was presented by Flying by Foy®, the same company that has flown hundreds of actors in many stage and movie productions.
There were also several "firsts" for IAAM in the presentation of this year's PAMC. As the theme of the conference encompassed sustainable issues, the PAMC Programming Committee made this the first carbon-neutral meeting ever held by the Association. Through a special arrangement with The Conservation Fund and their GoZero carbon footprint calculation, the PAMC was able to offset the estimated impact of attendees traveling to and from the conference and their stay in Seattle, in addition to other relevant factors. Learn more at http://www.conservationfund.org/gozero. It is noteworthy that all venues were within walking distance or a short monorail ride, and that participants could travel from Seattle/Tacoma Airport to the hotel via a brand new and extremely efficient light rail system.
Another "first" involved utilization of technology to video conference one of the speakers for "Lights, Camera, Action! Performing Arts Centers as Television's Best Studios" directly into the session, taking place at the Seattle Center's McCaw Hall. Jay Thomas, Vice President/General Manager of the Kodak Theatre in Los Angeles was unable to attend in person because of his venue being used for the Academy Awards the night before. Given the subject matter of the session, it seemed logical to utilize television and internet technology to bring Mr. Thomas to the participants.
At the PAMC conference last year in Atlanta, attendees donated a record-setting $13,000 to the IAAM Foundation. Another record was set this year in Seattle, with attendees contributing $15,000, which was yet another "first" for the largest amount ever donated to the Foundation by attendees at an IAAM Specialty Meeting.
PAMC committee members, organizers, and sponsors continue to set a very high bar in a number of areas which has resulted in a profitable conference, both financially and educationally. The PAMC will take place next year, February 26 – March 1, in Dallas at the AT&T Performing Arts.
The International Association of Assembly Managers is the world's largest professional association dedicated to issues relevant to the management of public assembly venues. Members of the association manage public assembly venues such as amphitheaters, arenas, auditoriums, convention centers/exhibit halls, performing arts venues, stadiums and university complexes; or provide products, services or attractions to support the industry. IAAM has more than 3,500 members worldwide.
# # #