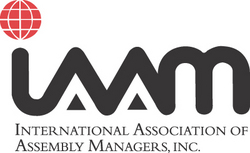 Coppell, TX (Vocus) June 5, 2010
The International Association of Assembly Managers (IAAM) is pleased to announce the rollout of IAAM VenueNet, a membership driven, social networking platform. VenueNet was open to all IAAM members June 1, 2010.
IAAM is on the forefront of providing a technology to its members that will help members connect, communicate and collaborate with industry colleagues. VenueNet offers all the functionality of traditional business networking, such as phonebooks, directories, glossaries, and business intelligence documents—all in one place and not available anywhere else.
Members from around the world will be able to communicate and collaborate in real time. The collective intelligence and sharing of ideas, documents, trials and tribulations will launch the public assembly venue management industry into the future. "The launch of VenueNet is very exciting for IAAM as well as our industry as a whole. Utilizing this state of the art technology will allow public assembly professionals the opportunity to communicate and collaborate quickly, efficiently and effectively. Being able to discuss topics and issues in real time, across the world, opens doors to ideas and strategies not yet thought of in the industry. I cannot wait to see where VenueNet takes us in the future," said IAAM President & CEO, Dexter King, CFE.
Join us at VenueConnect in Houston, TX on Saturday, July 24 and discover all VenueNet has to offer. Receive hands on experience with building a profile, connecting with colleagues and industry experts as well as finding and sharing documents, photos and presentations. This is sure to be a session, and conference, you won't want to miss.
The International Association of Assembly Managers is the world's largest professional association dedicated to issues relevant to the management of public assembly venues. Members of the association manage public assembly venues such as amphitheaters, arenas, auditoriums, convention centers/exhibit halls, performing arts venues, stadiums and university complexes; or provide products, services or attractions to support the industry. IAAM has more than 3,500 members worldwide. More information is available at http://www.iaam.org.
Contact: Dana Glazier, CAE
June 3, 2010
(972) 906-7441
http://www.iaam.org
###