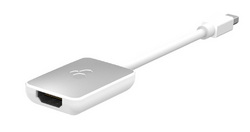 Brea, CA (PRWEB) June 14, 2010
Kanex presents iAdapt HDMI V2, a Mini DisplayPort to HDMI adapter with audio, for new and revised Mini DisplayPort connectors on MacBook and MacBook Pro mid 2010 models as well as all 21.5-inch and 27-inch iMacs.
MacBooks and MacBook Pros released in mid 2010 as well as 21.5-inch and 27-inch iMac models are now equipped with a new and improved Mini DisplayPort which can support both audio and video output. The iAdapt HDMI V2 is a single cable solution designed to pass both audio and video through the Mini DisplayPort connector. Connect the iAdapt HDMI V2 and view high definition playback in 1080p and uncompressed digital audio with HDTVs, projectors, or monitors.
Features:

Designed for Apple MacBook, MacBoook Pro, MacBook Air, Mac Mini, and iMac with a Mini DisplayPort connector
Supports video and audio passthrough for April 2010 MacBook / April 2010 MacBook Pro and all 21.5-inch and 27-inch iMac desktop computers
Converts video signal from Mini DisplayPort to HDMI format for use with HD monitors, projectors, and HDTVs
Display video in full 1080p HD for highest quality resolution on any HDMI enabled device
Supports video passthrough for all Mac models with a Mini DisplayPort connector
Simple design allows for a single cable solution for HDMI connectivity
With the recent release of the Kanex XD™, a HDMI to Mini DisplayPort converter used to play HDMI content on the iMac 27-inch, Kanex is continuing its momentum in product development. iAdapt HDMI V2 is the newest product in a long line of Kanex adapters designed and engineered to support the growing line of Apple products. Previous versions of Mini DisplayPort equipped MacBooks, MacBook Pros, MacBook Air®, and Mac Mini®, are only capable of outputting video through Mini DisplayPort. Alternative solutions for audio output such as iAdapt 51 and iAdapt 20 accommodate for this limitation.
For more information visit http://kanexlive.com/products/iAdaptV2.html
About Kanex
Kanex. Pronounced "Connects", does just that. A brand that connects the separated worlds of consumer electronic accessories. Kanex products start from a simple idea, with a first to market mentality focused on the always changing consumer electronic technologies industry. We design, develop, and manufacture innovative and creative solutions, focusing on audio video components that strive to be the influential force behind Apple connectivity solutions. With deep roots in creative engineering, our specialty lays in merging current and future technologies. Kanex is built upon a strong foundation of innovation and adaptability that allows the brand to be nimble and stay on top of the always changing consumer electronic technologies. For more information about Kanex and its products, go to http://kanexlive.com/
Simple connections, simply Kanex…
Kanex® XD™ and iAdapt® are trademarks or registered trademarks of Apogee Inc.
Apple®, MacBook®, MacBook Pro®, MacBook Air®, Mac Mini® and iMac® are registered trademarks of Apple Inc.
# # #