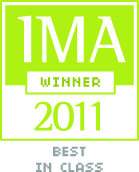 We are both excited and honored to receive this award from IMA
Schaumburg, Illinois (PRWEB) May 23, 2011
The International Academy of Design and Technology (IADT) has received the highest honor awarded through the Interactive Media Awards™ (IMA) competition for its new website: The Best in Class Award. The IADT website was given this award for the category of "Education."
"We are both excited and honored to receive this award from IMA," said Tom McNamara, senior vice president of the Art and Design strategic business unit at CEC. "Our team worked hard to create an easily accessible, functional website that meets the needs of current and prospective students."
The new IADT website is designed to help students find art and design schools in their geographic area. IADT has schools all across the country that offer degree programs in design, fashion, media arts, technology and other related fields. The goal was to combine all the information regarding those schools into one easily accessible place. The project was a joint effort between the Web, IT, Creative Solutions and Marketing teams at IADT.
The Interactive Media Awards ™ is an international competition open to all individuals and organizations that are involved in designing, developing, managing, supporting and promoting websites. IADT entered the competition after consolidating all of its websites into one comprehensive art and design school resource.
In evaluating each website, judges for IMA use a proprietary, points-based scoring system that allows for a total of 500 points to be earned. Judges evaluate each site based on five criteria: design, content, feature, functionality, usability, and standards compliance/cross-browser compatibility.
By adhering to these strict guidelines, judges are able to maintain the highest degree of fairness, accuracy and integrity, and therefore deliver the clearest results. IADT's new website received a total of 485 points, a score high enough to be awarded Best in Class.
Only a fraction of the sites in the IMA competition win this distinction each year. It requires the site to successfully pass through a comprehensive judging process and achieve high marks in each of the judged categories.
About IADT
With more than 30 years as an established institution, the International Academy of Design and Technology (IADT) offers students a hands-on education with experienced faculty dedicated to providing students with the necessary skills, knowledge, support and guidance to pursue fulfilling career opportunities in the design and technology fields. Degree programs, which vary by campus, range from information technology, Internet marketing and audio production to graphic design, fashion design and interior design. Students also have the opportunity to take a portion of their coursework online through IADT Online.
IADT is accredited by the Accrediting Council for Independent Colleges and Schools (ACICS). ACICS is a national accrediting agency recognized by the United States Department of Education. IADT cannot guarantee employment or salary and is part of the Career Education Corporation network of schools. For more information, please visit http://www.iadt.edu.
# # #