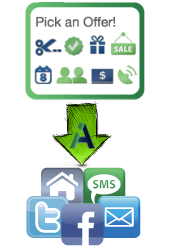 "We are excited to work closely with a partner that is already strongly aligned with our vision of providing the best business products and services as measured by Fanminder's customer engagement, ease of use, features, and customer service."
Westlake Village, CA (PRWEB) September 05, 2012
iAdvantage, provider of Small Business Software tools, is pleased to announce its new partnership with Fanminder, a social, mobile loyalty startup that provides small businesses with first-of-a-kind customer marketing tools that convert online customers into in-store buyers. Paul Rosenfeld, CEO of Fanminder states, "The iAdvantage partnership will help Fanminder be discovered by many more mainstreet merchants hungry for a simple and affordable way to get customers back through the door in today's dog eat dog economic environment."
In addition to offering many basic tools for running a small business including a web-builder tool, email hosting, accounting software, and cloud storage, iAdvantage will now also provide subscribers with marketing tools to create and send 'one-click offers' to their fanbase.
This new partnership marks an important step for iAdvantage, as it is the first product whose sole function is to increase sales for a business, and does so using the most relevant channels today, social media, email, and mobile phones. By providing tools to encourage a small business' fans to visit the store and claim promotions distributed via Facebook, Twitter, Email, Text message and the business' own website, iAdvantage customers can now reach their fanbase of not just regular in-store customers, but those online as well.
"We are excited to work closely with a partner that is already strongly aligned with our vision of providing the best business products and services as measured by Fanminder's customer engagement, ease of use, features, and customer service." Said Jonathan Wu, Director of Business Development on working with Fanminder.
About Fanminder
Fanminder helps thousands of small businesses convert online fans into in-store buyers. Businesses can start for free and pay a monthly subscription as they grow. To learn more, visit http://www.fanminder.com.
About iAdvantage
iAdvantage is a product suite designed to help small businesses run more efficiently and cost-effectively. Since officially launching under parent Merchant Processing company iPayment Inc. in January 2012, iAdvantage has continued to develop and expand its suite to offer robust business solutions to its existing merchant base. To learn more, visit http://www.iAdvantageSolutions.com.
For additional information on iAdvantage news or for prior Press Releases visit iAdvantageSolutions.com/PR or Facebook.com/MyiAdvantage. For any other marketing related requests contact iAdvantage Marketing at marketing(at)iadvantagesolutions(dot)com.